Neal Dempsey, My Life Story
CHAPTER FOURTEEN
The Wedding

Despite the fact that I had asked Elisabeth to marry me, and even though she had agreed I was still not confident enough to believe it would actually happen. I went through the arrangements and toddled along with Pad and Michael to Moss Bro's to be fitted out with our suits for the big occasion. On top of the price of the hire of the suits we each had to leave a deposit of £5. (A colossal sum of money at the time). It all seemed like a dream and that at any moment the bubble would burst. The next thing that happened was that Elisabeth was to be Bridesmaid for a childhood friend, when she was told the night before the wedding that it was cancelled. The Bride had fallen in love with another man! Elisabeth told me that although it was a shock to her, she gained total comfort from the fact that it would never happen with her. This gave me tremendous encouragement, but the whole thing was still a bit of a dream.
I had booked a small boat on the Norfolk Broads for our Honeymoon and was almost as excited about that. My first ever proper holiday! I was getting a bit of flak from the rest of the men on the relief who all insisted that they wanted to be invited to the wedding. I had requested for three of them to be there as well as Eddie and Anne, Elisabeth's friend. (The couple we had introduced to each other.) My mother was to be accompanied by her Brother, my Uncle George in the absence of my own father. Michael was there with his new wife Daphne. Paddy's wife Muff did not attend because she had small children to look after. After all the family members of Elisabeth's including Joan who had spotted us together before anyone else, and the local dignitaries she had invited several of her Nursing friends from the London Hospital who proved to be very popular with my Police friends.
We stayed at The Chase Hotel over the Friday night. On the day itself I was still in a bit of a daze about it all when we were getting dressed to go to the church Pad' came out with his party piece. He had everything exactly as should be, shoes gleaming as usual, but he had forgotten to bring a white shirt. As a Best Man, he was a bit of a disaster and thought everything so hilarious. I had to open my case and dig out a white shirt of my own for him to wear. Fortunately I had a spare, so the moment was saved. How can you get mad at a bloke like that? Michael and Elisabeth's cousin John were Ushers and a very efficient pair they made. Barbara was Bridesmaid and looked stupendous. My only regret with hindsight is that I looked so gaunt and as thin as a rake. To this day it is still a surprise to people who see the pictures. I weighed a little under 10 stone at the time, which was at least 11/2 stone less than I should have been. This was as a direct result of the operations I had experienced 7 years previously when I had lost so much weight, which I had never recovered.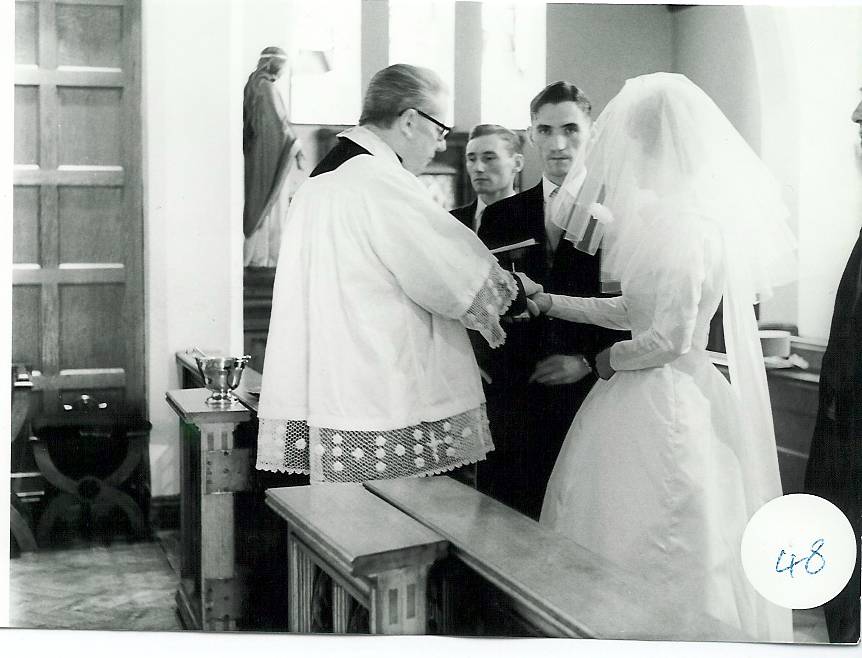 The marriage Service took place in the Catholic Church in Ross on Wye. When the organ started up with the Bridal entry I stood and turned to see Elisabeth looking absolutely radiant on her fathers arm with Barbara behind. I don't really know how I felt at that moment it was such a beautiful experience it is almost impossible to put into words. Was this really happening to me? I don't really remember any detail of the actual ceremony it all seemed to happen in a blur. Because of the constraints of the Church Laws at that time, we could not have a Nuptial Mass as Elisabeth was and is an Anglican. We had to retire to the Vestry immediately after the religious service to have a Civil service with the Registrar and sign the register and various certificates. Then we came back into the Church and processed down the nave and outside as Mr and Mrs. and start posing for endless photographs. The only down side was that the weather was damp and drizzly so Elisabeth's veil didn't really hang as it was intended to. Sadly the Anglican Priest did not attend the wedding, but attended the reception afterwards, and Elisabeth hung her bouquet on the Lectern in the Parish Church. A small gesture, which made a deep impression on me was that, the Police had posted an Officer complete with white gloves, outside the church to help the cars leave for the reception afterwards.
The Reception was held at 'The Chase' Hotel, Ross on Wye. The usual round of picture taking preceded it and to be truthful I was jolly pleased to get that over and done with. I did not like having my picture taken, but this was not the occasion to be churlish about things like that. I thoroughly enjoyed the reception, although to this day I cannot remember what we had to eat. The speeches were short and to the point. Elisabeth's father only had one short piece of advice to give her, and that was to "Feed the brute". This I remember brought lots of laughter, and that's all I remember of the speeches. I made a speech but I have no idea what I said. I just hope I didn't ramble on and that it was acceptable. On these occasions I think people are forgiven for a lot of mistakes provided they don't become an absolute bore.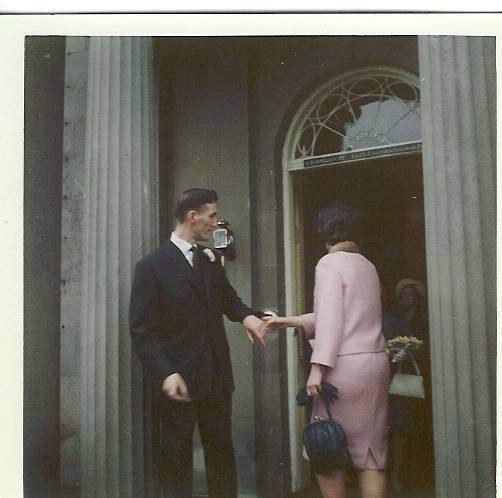 We made a round of all the guests after the speeches and a great deal was made of the cutting of the cake. The top tier was saved in the usual tradition for a later date. Eventually we were able to go and change out of our wedding suits into our going away outfits. Elisabeth was shunted off to a room somewhere because her going away outfit was another surprise outfit. Our cases were sneaked into a waiting taxi, which was going to take us to Gloucester Railway Station to catch a train to London. firstly we had to run the gauntlet of well wishers who all wanted to smother us in confetti and anything else which could show anyone who saw us that we were newly married. We finally got away and the driver sped to the railway station we thought we had got away quite lightly, but it was not to be. We boarded the train and had got ourselves seated, the train started to move as we saw John Robinson and several others from the party running along the platform beside the moving train. John threw a half-pound bag of Rice through the carriage window, which hit the wall above our head and split, showering us with rice.
When we arrived in London we had to cross London to change trains. We got a taxi again and then had to rush over a footbridge to get to the platform with little time before our train left for Norfolk. Elisabeth had a very posh case with her new initials painted on. My case was a cardboard imitation leather case. Unfortunately as we were dashing across the footbridge with moments to spare, the handle of my case tore away, and I found myself tearing along holding a handle with no case. I had to dash back and pick up my case and run on after Elisabeth. We made it with seconds to spare and out of breath. The train was a stopping train and we arrived at our destination St Olaves, on the Norfolk Broads. We were the only passengers to get off, it was the last train of the day; the stationmaster began taking down the oil lamps and leaving the station in darkness. Fortunately the owner of the boat Hire Company was waiting for us at the station, he took us in his car to the boatyard and very quickly showed us into the boat and its layout, before going off himself to the pub before it shut. He said he would be back the next day to go over the workings of the boat. It was the end of a long and very exciting day that still seems like a dram after all these years.
The boat was a wooden double berth cabin cruiser with a small cockpit at the stern. The boat was called "Cirrus". We had a lot of fun and laughs, not least when I tried to pull another boat off the mud. We had put a rope across between the two boats and as we started to increase the revs on our boat the strain was too great, the rope snapped and I went flying to Elisabeth's hysterical laughter. On another occasion as we were cruising along the River Yare, there was a large coaster coming toward us throwing up a bow wave of 12 to 18 inches. Elisabeth was in the toilet, which was in the bow of the boat and broadside. I shouted a warning to her, which she didn't seem to understand, and the next moment the bow wave hit us. The force of the wave caused us to lift and bounce around a bit, and all I could hear were startled shouts coming from the front end of the boat. I found it was my turn to laugh. The week ended all too soon and we had to return the boat to the boatyard. I cadged a length of rope to splice around my case so that I could carry it properly again. We made our way back to our new home in Richmond Surrey.
Copyright © 2005, The Dempsey Family
Please send your comments to ccd@
classicbookshelf
com