Neal Dempsey, My Life Story
CHAPTER THREE
Standing Alone
The end of the war coincided with my moving from the protection of the primary school and Pad's influence; to having to stand alone on my own two feet in isolation. This was a psychological parting of the ways for Pad and myself because we were now separated. I don't think I was adequately prepared for the culture shock, and very quickly found I was not accepted either by my peers or the masters. I did not fully understand what was expected of me and it took a week or two to get into the way of things. I was an evacuee, the only one to get into the school, and not really acceptable, so became the victim of a lot of bullying. It was pointed out to me that the masters did not like whiners and I had to stand on my own two feet which I did; and was then promptly punished for always being in trouble. It was a no win situation. The only plus side I can recall, is that I must have absorbed something from there, because when we returned to London, I did have the early rudiments of Latin, Mathematics, and Science which I certainly did not get at the primary school. I also started to take an interest in stamp collecting which stayed with me for fifty years. Within twelve months the armed forces started discharging the 'Hostilities Only' Soldiers and Sailors. Regular soldiers like my father were retained on station for a while, but recruitment into the armed forces continued through National Service
Within a few months of starting at Redruth in 1945 the war was over in Europe, and we were returned to London. My Father however had decided to remain in the Indian Army for the time being but had told my mother through a letter to her father my Granddad; that he was not going to come home to us. We were not immediately aware of this but with hindsight I think he was a despicable coward. We needed him and his support at that time and there seemed to be some sort of totally unwarranted stigma attached to us through his arrogance and selfish conceit. I never forgave him for it then, nor do I now.
We returned to the same avenue but to No 13 'J' Block. The avenue was arranged in double fronted blocks 5 stories high. Originally there were sufficient blocks for every letter of the alphabet. 'A' to 'M' on the one side and starting opposite 'A' Block, 'N' to 'Z' on the other. Thanks to the attentions of the Luftwaffe, 'K' to 'M' were obliterated on the one side, and 'Y' Block opposite 'L' on the other. For the uninformed it could well have looked like a military barracks from the air, as it was immediately adjacent to the large goods yard for Victoria Railway Station. Our old home 13 'Q' Block from where we were bombed out had been restored and was reoccupied by another family. 'K' block was still half standing in that the staircase or most of it was still there and some of the shell attached to 'J' block. The surrounding streets were a shambles of wrecked houses and heaps of rubble where houses had been. A very dangerous playground, which both Pad and I exploited to the full. We used to climb through the various wrecked buildings to pull out roof slats and wood to take home for the fire for the copper boiler in the communal washroom, shared by four flats on each floor. I have already mentioned that the church had received a direct hit. Battersea Power Station, which was directly across the river form the Avenue, had three chimneys and appeared to be intact. It was fascinating later on to see them build a fourth chimney.
Most of our furniture and bedding, indeed most of our property had been stolen while it was in store for the duration of the war. For a while we were obliged to sleep on the springs of the beds covered in coats, as there was nothing else available and that winter proved to be severely cold. There was no electricity in fact there never had been. Lighting was by gas light, cooking was by a black coal fired stove, although in time we did get a gas cooker, in the living room cum' lounge, cum' kitchen. Water was drawn from a cold-water tap on the landing, which was common to two flats, and both flats shared the toilet. Coal was stored in a bunker by the front door of the flat. There was no bathroom, but there was a communal bathhouse on the estate with different days of the week for sex and age groups. The porters would supervise the men and boys; the porter's wives would supervise the women and girls. When the boys went to the baths, the porters would keep the hot water tap in their pocket so you had to ask if you wanted hot water, this was to prevent drawing off too much. The hot water was supplied from a boiler house at the end of the building, which the porters had to keep stoked up.
Television didn't exist. The Wireless (Radio) was driven by accumulators or wet cell batteries, which had to be recharged at the local Electric Shop (Piercy's) every Saturday morning (Price 6d). This was also the shop where we bought the gas mantles for the gaslights. Milk was now delivered in milk bottles, and the milkman pushed a three-wheeled cart loaded three or four shelves deep with his bottles. The cart had a large wheel at either side with a small wheel central at the front. Not a very stable vehicle and often-overbalanced in wet or icy conditions spilling its contents over the road. Totters or scrap merchants were a common feature riding along shouting their trade, on their flat bed carts being pulled by a horse. News was mostly obtained from the Newsreels at the cinema's and I well recall seeing the Liberation of such places as Dachau, Belsen and Changi gaol in the cinema. People were horrified and angry. Many years later I would see Changi for myself when I served in Singapore while in the Royal Navy, but it was all very far away and not real at that time. Live entertainment was for us a rare treat in the 'Gods' at the Chelsea Palace in the Kings Road, Chelsea opposite Chelsea Town Hall. We had to be there early to queue to get a seat. I think a seat cost about 1/6d. It was a fantastic time for theatre then because all the budding stars were emerging from the Services having been discharged. One such star, then totally unknown was Tony Hancock. He seemed to have the theatre collapsing simply by walking onto the stage from the wings. He was hilariously funny. The 'Crazy Gang' was at the Victoria Palace at the bottom of Victoria Street, near the Railway Station. Across the road from the Railway Station was the Victoria Palace where they had a Feature Film, Pathe news and a live Stage show all in one programme. A whole list of then unknown American stars of film and stage made their debuts there at that time. This was a little more expensive than the Chelsea Palace and so was not visited by us.
Very soon after our return to London, Pad was started at Buckingham Gate secondary school, despite his having won a Grammar School place from the L.C.C. He was more than a year behind in his education, thanks to Adolph Hitler. I started at the Grammar School 'Westminster City' School in Palace Street. Not to be confused with 'Westminster School', which was a Public fee paying School attached to Westminster Abbey. The school had a long history of patronage by both the City of London and the City of Westminster; its Motto was 'Unitate Fortior' which translated meant 'Strength in Unity'. The school badge was the shields' of the city of London and Westminster joined together by the mace surmounted by the Royal Crown. As far as I am aware it was the only school in the country entitled to use the Royal Crown on its Badge. The building was a very forbidding Gothic style edifice. It was all male, the staff wore their gowns, and prefects wore the short undergraduate gowns. Prefects would patrol up and down Victoria Street before school to ensure all boys were behaving themselves and wearing the school uniforms including caps and ties properly. Ties with large knots or left loose, were not tolerated. No one was allowed to try to get through the front doors of the school, and discipline in the Quad in the front of the school was rigidly imposed. Fraternisation with the children from Buckingham Gate, who walked past the front of the school, was not tolerated either which made it more difficult for Pad and me and tended also to pull us further apart. Michael was started at primary school near home.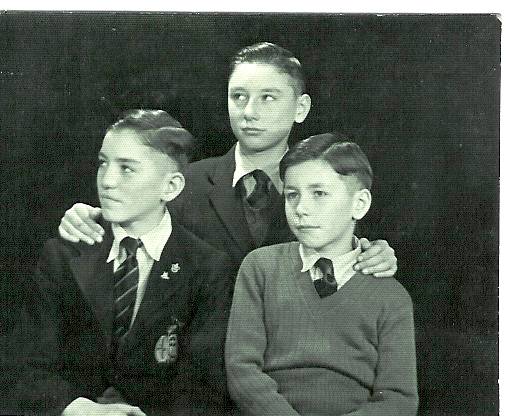 I made a few friends at the school, but still remained very much a loner. I was still the boy who would be picked on by the bully, but the prefects were always somewhere in the background and they jumped on bullying in quick time and the bullies might find their play time more gainfully employed doing press-ups in the gym, or detained after school in Prefects detention. The time had gone now when I could defend myself with a scrap with whoever it was had insulted or upset me, for the time being I just had to learn to take slights in silence and try not to show that I was hurt. I have always had a very strong sense of humour and I can laugh at myself, it started to come very much to the fore now so there were up sides, but in the classroom I was often unmercifully mocked for my speech. What was most cruel to me was that the masters would sometimes join in as if this was some big joke I found utterly hurtful. The situation was aggravated I think by some so called comedian on the wireless who used to get his laughs pretending he had a cleft palate, and sending his audience into gales of laughter. It used to make me want to smash the radio, so we always turned his programme off, but often that type of humour crept into other programmes as well and so couldn't always be avoided. Another trait of the time was that if a film or comic wanted to depict someone as being ugly and evil they represented that cartoon or person with a harelip. Now they paint them green, but it all served to present the harelip and cleft palate as something subnormal in some way. Not being able to articulate certain consonances, in particular the letters X, C and S; air escaped through my nose as I spoke was a very difficult problem to cope with.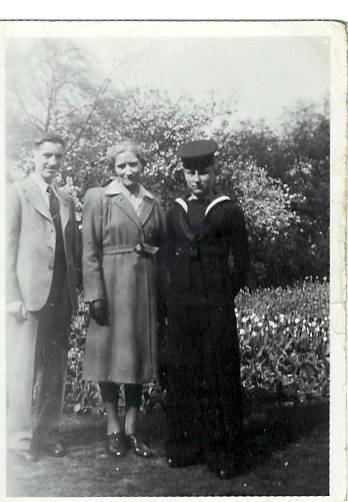 There were two masters in particular whom I did not like; the first was the language master who taut French and Latin, the second was the history master who completely ignored me as if I were not even in the room. The language master treated me with utter contempt and when going around the class asking questions would pass me by with some remark about it not being worth the bother to ask me because he needed a translator. On Wednesdays a coach took us off to the sports field at Chigwell for games. I hated Wednesday afternoons because in the contact sports I always seemed to receive more 'Contacts' kicks and bumps than anyone else. At least the school game was soccer and not Rugby as at Redruth so I didn't get punched as much as in the rugby scrums, but there was always the coward who would take advantage of the moment to hurt if he could. A lot of the boys would repeat everything I said as if they too had a cleft palate and in consequence I just stopped talking at all at school. The best part of the day for me was when I went home because once off the bus I could take off my uniform and relax with Pad and Michael. The most important feature of the evening of course was to tune in to "Dick Barton, Special Agent," not to mention his companions 'Snowy' and 'Jock'. The situations they got themselves into made the later adventures of 007 seem like child's play.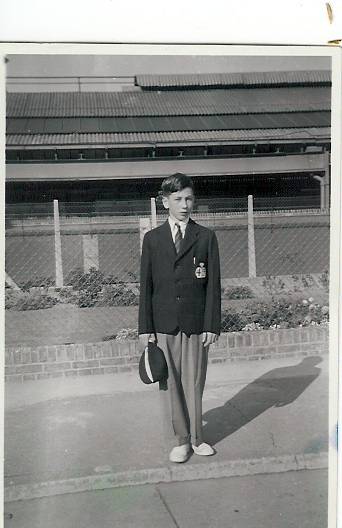 I did try the Boy Scouts at that time, Pad had got into the Sea Scouts who had an old Thames Barge (Called the Plynlimmon) on the river opposite The Royal Hospital, but the, Skipper, wouldn't have me because I could not swim and he really didn't want me there anyway. I joined the 8th Westminster troop, 'The Cardinals Own' attached to Westminster Cathedral. On Thursday November 20th 1947 the then Princess Elizabeth got married to Prince Phillip. It had been a gloomy year with the execution of the German war Criminals after the Nuremberg Trials, and the travesties, which had occurred because of the dividing up of India into the main part of India and West and East Pakistan (Now Bangladesh).
The wedding was a fairy tale story. People were able to see it on tiny little black and white television screens a brand new feature. I was privileged to be with other Scouts lining the Mall for the Wedding procession to and from Buckingham Palace; afterwards I spent a couple of days selling programmes in St James' Palace where the bridal gown and all the wedding presents were displayed for the public. I remember being absolutely horrified when one of the boy scouts was arrested by a detective for trying to steal some of the Nylon stockings, which had been given as a wedding present. Nylon stockings were considered to be a real luxury item at the time.
I had a couple of years with the scouts, but I never became part of the 'in' group, so after a rather traumatic camp I left. I had been camping a few weekends at Gilwell Park, but after a week with the troop in Guernsey, I had a bite on the instep of my foot and came home at the end of the week with a badly swollen foot and cellulites. We had to stay on the deck of the boat all the way home. In those days Ferries to the Channel Islands were little more that small cargo boats with no covered accommodation for the likes of us. We had to make ourselves as comfortable as we could on the top of the cargo holds. Those people who had motorcars and could afford to take them over to the Channel Islands, saw them rolled onto a net at the quayside and lifted onto the ship by crane. By the time I got home I was in a bit of a sorry state, and the Scout Master didn't seem to want to know or didn't know what to do. Either way nothing was done until I got home. My boy scouting days were over.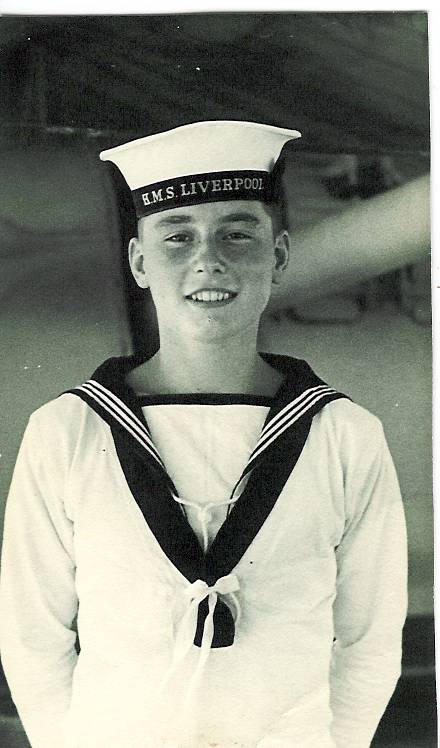 During my third year at school, my mother found out about the Nuffield department of Plastic Surgery at The Churchill Hospital at Oxford. I was admitted for repair to my nose and lip to make it easier for me to breath through my left nostril and to make my lips a little nearer normal. This was a very edifying experience, because there in that ward I saw people infinitely worse off than myself. There were two Jamaican Policemen who must have been 6'6" at least in height. They had tried to throw away two hand grenades that had been thrown in a riot. Both had suffered severe injuries to one hand. They were two really super gentle men, and the first West Indians I had ever met. Another man in the ward, a farmer, had fallen off his tractor and the ploughshare he was pulling cut across his face. He had lost a quarter of his face and jaw. I felt guilty that my problem seemed as nothing compared to theirs. I had however become a bit of a cause celebre to the surgeons because they wanted to rebuild my face and make it look perfect. I wanted desperately to be able to talk perfectly. After surgery I returned to school to a mixed reception, but my education had got too far behind for the forthcoming G.C.E / matriculation exams. I was not expected to come up to the schools high standards, and so my form master found me a job interview. I was over the moon at the prospect of leaving school and so perhaps didn't do myself any good by being so keen to leave as with hindsight I could have done quite well in the examinations. Not Matriculation standard I admit, but well enough to move me forward later. Over the years Pad had become closer to Michael and I found myself increasingly isolated. There were no arguments or animosity between us, indeed on the surface we were a close-knit family, but there was something missing. Pad left school the year before me and joined the Royal Navy as a boy seaman at H.M.S. St Vincent. A Boys' training establishment near Portsmouth. From there he went out to the Mediterranean to join H.M.S. Liverpool, a County Class Cruiser. Michael passed his scholarship and went to Westminster City School the summer after I left.
Copyright © 2005, The Dempsey Family
Please send your comments to ccd@
classicbookshelf
com