Neal Dempsey, My Life Story
CHAPTER EIGHT
Singapore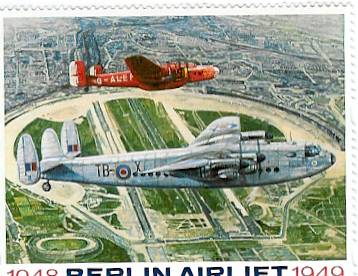 On 19th August 1954, I was lined up on the Parade Ground in my new civilian clothes along with the rest of the men who were travelling with me including an Officer also in civvies. We were taken to the railway station and travelled to London, where we were met at Waterloo and then taken to Clapham Common deep underground/air-raid shelter. This was a shelter deeper than the underground railway lines with a network of tunnels, which included proper sleeping accommodation, kitchens, dining areas and offices. It was being used as a transit camp for troops moving around the country and obliged to stay for a while in London. As soon as we arrived there and before we got off the bus, the Officer in charge told us to watch our kit, because if we weren't careful we would find it would be stolen. When we were booked in and allocated our bunks, given a meal and told we could go ashore if we wanted. I wasn't too happy with the men I was travelling with and decided not to go, London held no excitement for me. I refused also to be personally responsible for their kit. I agreed to keep an eye on it but it was their responsibility. I was intrigued with the shelter and wandered around to find out as much as I could about it. I didn't envy the men who had to work down there permanently. Apparently this deep shelter was destroyed by fire a year or two later.
We were roused early the next morning, given breakfast and then moved up to street level. We were loaded with our kit onto a bus again and taken to Stanstead Airport transport lounge. I don't think any of us save the Officer had flown before so I think we were all equally as apprehensive as excited. Our main kit was taken from us and loaded into the hold of an 'Avro York' (Above) we could see out on the airstrip. In fact it was the only aeroplane we could see. The Officer gave us a lecture about our conduct until we got to wherever we were going, and explained that the crew were civilian so there was to be no foul language particularly not in earshot of the Stewardesses. Any misbehaviour he informed us in no uncertain terms would be reported to out future Ships Captains. Most of the men were joining different ships some in the gulf, or in Hong Kong and others in Singapore. Our destination today was to be Malta.
We were taken across to the plane and I was pleased to find I had a window seat. The plane had been a wartime cargo plane fitted out for passengers. There were two crewmembers in the cockpit and two stewardesses. There was only the one door to exit from so they didn't give us what is now the common safety ballet that cabin staff gives to passengers. We were simply told in the event of an emergency to do as the crew told us. So that was all right! We were also told that the plane would be flying at about 3000 ft plus. It wasn't pressurised so we might sound a bit funny when we talked to each other (A bit like Mickey Mouse with a hang over) and smoking on board was a hanging offence.
We took off at about 10 o'clock and the noise from the engines was deafening. I found the flight magical from the moment we lifted my face was glued to the window. The wings were above us and the engines in the wings didn't obstruct the view. The pilot gave us a commentary of where we were as we flew east over the coast and on to France. We were low enough to see a lot of what was going on down beneath us and crossing over from France with the Alps away to our left we were easily able to see the ships in the Mediterranean as we crossed over to Malta. The Stewardess had to nudge me when she brought around refreshments. All pre-packed and very much as you would buy in a Station Buffet at home. There was no sophistication as there is today. The Stewardess was an older lady and I reckoned had been a flight sergeant in the R.A.F. or the Brigade of Guards. The flight to Malta took 7 hours, so when we landed it was a relief to get off the plane and walk around. The heat was a shock and took a little getting used to, so too did our Mickey Mouse voice. It took a little while to get back to normal. We were taken to a Hotel in the middle of Valetta and allowed to go sightseeing after an evening meal.
After breakfast the following morning we were back at the airport and re-seated on the plane for the next leg of the flight. The same conditions applied as before, we flew reasonably low and enjoyed another six-hour flight to Cyprus. Here we were taken into the 'Hotel des Gourmets' just outside the walls of Nicosia. After a clean up and evening meal we were free to go ashore again. I had a short walk around Nicosia; we were advised not to go too far off the beaten track because of the EOKA crisis. Later in the evening we all seemed to end up at a cafeteria in a vineyard outside the city. We had a very pleasant evening, I drank very little of the wine available but thoroughly enjoyed the whole experience. It was a very sobering thought to learn a couple of months later that the Hotel had been blown up by the EOKA, under General Grivas a few months later, because it had been used by British troops passing through Cyprus. After a good nights sleep at the hotel I was ready for the next leg of the flight, but not what was to happen to me meanwhile. It seemed not all of the rest of the flight had been as sober as myself. One of the seamen had got himself paralytic in Nicosia and had been carried back to the hotel. His mates had carried him onto the coach and dumped him in the departure lounge and disclaimed any further responsibility for him. The officer in charge had made them carry him onto the plane, but a dispute continued then with the flight captain who at first refused to carry him as he considered him a danger to the flight. It was then realised that I was a Sick Berth Attendant and I was asked by the Captain to take care of him and told by the Naval Officer I was responsible for him. I was not amused, he took a window seat and I had to sit beside him all the way to our next stop, which was Bahrain, to refuel. We were taken off the flight during the refuelling and given a meal. My 'Patient' had been sick over his shirt front and was suffering from a monstrous hangover. I saw the officer and requested that as he was now recovered except for his hangover perhaps his Opo's could take over looking after him now. He agreed, to my relief, the seaman was beginning to smell quite disgusting. After refuelling we again took off again and flew to Karachi.
At Karachi the heat hit us as we disembarked from the plane. We were accommodated in a Hotel by the airport on a first floor level with a good view of the airfield. The heat made me not want to do much except just sit or lie down. The prices of drinks were well outside my budget so not moving about seemed the best option. At one stage I looked out onto the flat roof outside my room and saw dozens of 'The faithful' kneeling on the ground heads bowed facing toward Mecca in prayer. It was a spectacle I had never seen before and I think I was a bit alarmed by it. I was glad to leave the next morning. The price of the beer stopped the chance anyone being drunk, so there were no problems on this day. Apparently the offender of yesterday had been duly chastened and I understood his record would precede him to his new ship. We took off on time and our next port of call was going to be Delhi. We flew lower over the land, and having reclaimed my window seat I enjoyed a birds eye view of the fascinating countryside. At Delhi we were unloaded while the plane refuelled; and moved into a rather ostentatious airport hotel dining room where we had a meal waited on by the type of waiter I had only seen in picture books, with their turbans, small jackets and wide waist sashes. The service was de-luxe almost to the point of embarrassment. I really did feel grand, but it didn't last long before we were back on board again and off to enjoy our next panoramic view of the country, to our next overnight stop at Calcutta.
We landed at Dum-Dum airport outside Calcutta in the early evening. There was a coach waiting to take us to "The Great Eastern Hotel", in the centre of the city. The coach was a luxury one and it felt a bit incongruous to me as we drove through the slums of the suburbs of the city. Poverty was everywhere. We had a little more than the usual tourist spectacle however when for some reason the coach broke down in the middle of the slum area. We were forbidden to get off the coach and within moments the police had arrived and put an armed guard around it. We were told if they didn't the natives would be inside our coach boot and everything would be stolen. I don't know whether that was true, but I was quite prepared to accept the driver's word for it. It did give me a good chance to see what was going on round and about. There were a couple of Sikh guards lying on beds, which comprised a wooden frame with webbing straps across. These were outside entrances to big stores and had rifles in their arms. Men wore nothing more than a loin-cloth (Dhoti). Men, women and children were holding up their hands begging at the coach windows. We were told to give nothing otherwise there would be a riot. Eventually whatever it was that stopped us was repaired and we continued on our way. At the hotel, a very palatial marble fronted edifice, we had to run a gauntlet of beggars pulling at our clothes pleading for money. The contrast between the fabulously rich and indescribably poor cannot be greater than it is in India. Begging by the untouchables is quite a thriving profession in India. There was quite a trade in kidnapping babies to maim them and use them for begging in India at that time according to the local press. The hotel was air-conditioned and luxury didn't seem an adequate enough word to describe it. I was only too glad we didn't have to pay for the service and meals. I was pleasantly surprised to find that my daytime clothes had been taken during the night and were returned the next morning freshly laundered, what a superb treat that was. We were returned to the airport in the morning after breakfast without incident, it was a little cooler but there were still plenty of people of all ages sleeping on the pavements against the buildings. There were bicycles whistling around by the thousand, bullock carts and the occasional rickshaw. The whole thing fascinated me.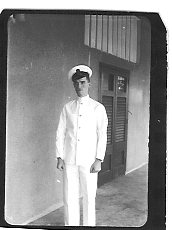 Our next landing was intended to be Bangkok, but we were informed that there were riots going on. We didn't know why, so the captain had taken on extra fuel, and we were going to try to get to Singapore. Not a very auspicious start to the day I thought. We took off and flew over the Ganges Delta and then down the coast of Burma and Malaya. I was amazed to see the fish traps seemingly well out at sea with the small huts of the fishermen perched at the end of the traps and their fragile looking canoes bobbing about alongside. The sea took on a brown colouring for some way out from the jungle coastline. As we approached Singapore, I could see the numerous islands covered in their jungle foliage and as we turned in toward the city over the stark white buildings, large parks (Padangs) and ship cluttered harbour. We finally landed at Changi airport, then an R.A.F Station that also dealt with civil flights. Singapore was a garrison town because of the so-called Malayan Crisis, literally a war with the communist Chinese army under their general 'Chin Peng'. It was called the Malayan Crisis to differentiate it from a War for Insurance purposes. In a War there is no Insurance compensation and the British had a lot of financial interest in that part of the world. Here I parted company with the rest of the flight, and was taken by transport to H.M.S TERROR, the naval barracks on the North of the island on the Straits of Johore, and opposite Johore Baharu. Most of this State of Malaya had been cleared of the Communist terrorists, but there were the occasional incidents of terrorists having a bit of rifle practice shooting across the Straits at the sailors working in the Naval Dockyard and in the Barracks. I had arrived.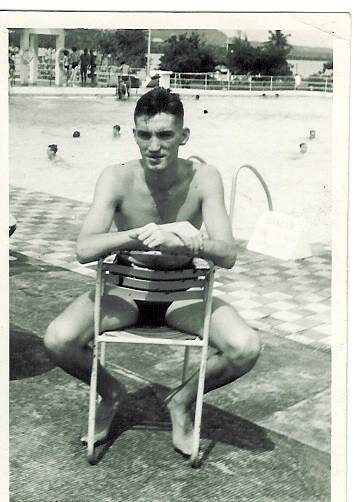 The Barracks was a sprawling place. The main living accommodation comprising two one storey 'H' Blocks each the length and breadth of the parade ground. The Barracks 'Ships Company being housed in the two parallel blocks to the South of the Parade ground; visiting ships companies (Ships in dry dock for re-fit) were housed in the two parallel blocks on the East side. On the West side of the parade ground was the flag mast and saluting dais. The North side was vacant, the ground beyond sloping away to the fleet sports ground and the Sailing club on the banks of the Strait. The barracks got its name from the last ship to leave Singapore as it fell to the Japanese during World War two. That H.M.S Terror was a small gun boat which steamed away in defiance of the Japanese as it sped toward Sumatra creating as much havoc as it could on the way, until eventually it was sunk with all hands by the Japanese. There were a number of relics left by the Japanese when the British returned. On the Jetty by the waterside there was a squadron of 6 Japanese river gunboats, which had come straight out of the dockyard in brand new condition and had never fired a shot in anger. These had been adapted to be used for practice and training in Damage Control and fire fighting. We also practiced rescuing sailors from inaccessible compartments on board. There was a small shopping arcade intended exclusively for occupants in the Barracks. These were manned by the Chinese and ranged from the inevitable Chinese Laundry to Jewellers, stationers and whatever you could imagine. All of these facilities and more were available in any village outside the Barracks at a percentage of the price. There was also a large open-air swimming pool, which was probably the most popular feature in the place.
I worked in the Dental surgery, which was behind, and below the ships company blocks facing out over fields toward the Dockyard. The routine was not strenuous; we worked 8am to 4pm starting off with emergency treatment for native Indian, Malay and Chinese workers. We did not do comprehensive dentistry for them. It was emergency only, which usually meant an extraction. Any further treatment they had to go to a dentist in the villages and pay. The Sikh's were the worst problem, as their religion required them to keep the teeth we had extracted. So we had to boil them up to sterilise the teeth and then return them to the patient. The Chinese wanted any gold fillings returned to help pay for their funerals. The dentist, a Surgeon Lieutenant, did not particularly like peering into the mouths of the Indian patients early in the morning, because they seemed to eat the most repulsive curries and their breath was disgusting, more so if one was feeling a little delicate after a night ashore.. I was encouraged to do a lot of this work, which I enjoyed, and learnt from. We had two Chinese dental mechanics attached to the surgery. I was highly amused to be told by them that they had both been to England on warships at different times. They both said that they had girlfriends in London at: "Picadeary Street" aka Piccadilly Circus, and that they were very expensive.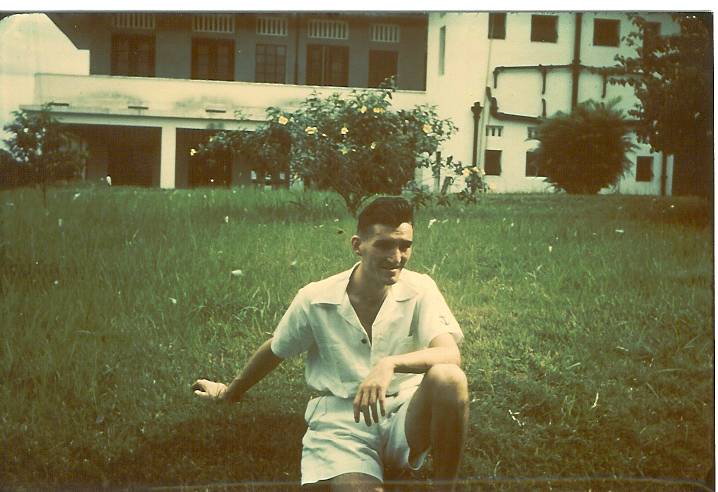 Pay was supplemented now by a Local Overseas allowance, (L.O.A.) and was obviously paid in Singapore/Malayan Dollars. A Dollar was worth about 5/- (25p) English money. The Naval Base was about 25 miles from Singapore City and there was a bus laid on at regular intervals to take us there. The bus went weaving in and out of the jungle through Nee Soon, a large village half way to Singapore. We travelled on the Thompson Road, as the fast motorways that connect the causeway to Singapore did not exist then. It took about 3/4 hour to travel. I never failed to enjoy the journey, seeing the water buffalo working in the fields, the straw 'Attaps' Houses by the side of the road or further into the fields. These were invariably built on stilts four or five feet up from the ground, always with chickens running around underneath and often with children playing around on the ground, sometimes with a small stall selling vegetables or fruit. On a return journey there was always a crowd of children trying to sell us a hand of bananas and a pineapple for 10 or 15 cents. The bananas were the Malayan variety, no longer than a mans' finger, but thick and very sweet. I never failed to buy a drink of coffee from an Indian roadside stall just outside the Naval Base. The stall would not pass a hygiene test in any society in the world. Drinks were served in old condensed milk tins, which were afterwards rinsed in a large tin full of coffee coloured water. The coffee was made with condensed milk, so there was a continuing supply of mugs to serve it in. it was all very disgusting but tasted lovely, so at 10 cents (2.5p) a cup/tin/mug I took my chances. To my knowledge, no one suffered a fatal or life threatening condition after taking any of these beverages.
In September 1954 I sat the promotion exam to Leading Sick Berth Attendant and passed. I was made up in the rate on 30th September, which meant another small pay rise, and a minimal increase in L.O.A. I was put in charge of the Miscellaneous Mess, which comprised Writers, Store men, and Sickbay Men. There was a hint of homosexuality among the men certainly two of the Sickbay men were highly suspect and they both worked in the Dental unit with me. We all immediately struck an understanding. I would not tolerate any hint on the Mess deck. What happened outside was outside my control, and must be out of my sight and hearing.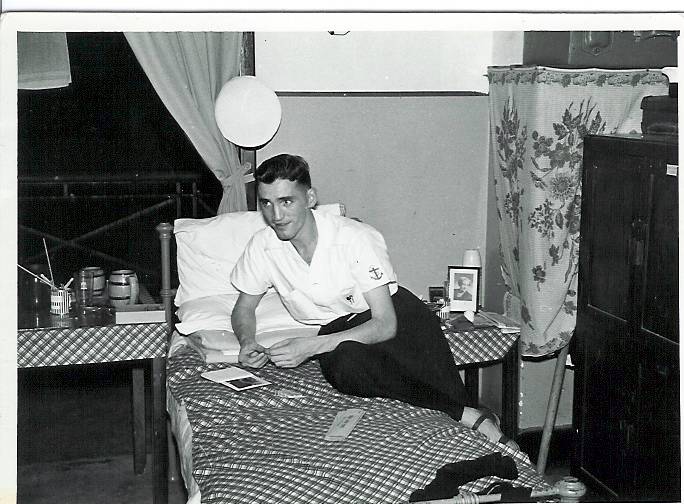 There were no arguments, and to my knowledge nothing improper occurred. There were moments of high camp and theatrical melodrama performed by my two colleagues and a couple of scribes. All intended in good fun, and some of it aimed at me. Christmas that year was my first away from home. I didn't feel at all sad about it because there was so much going on. In fact I thoroughly enjoyed it, there was perhaps a little too much drink floating about, and maybe I imbibed more than I ought to have, but I was still able to do my job and certainly didn't disgrace myself in any way.
Time passed very quickly, lots of activities were organised, Banyan parties and boat trips in the whalers. (The terrorists were now eliminated from Johore). Trips ashore were a regular feature and visits to the Servicemen's club in Singapore City opposite Raffles Hotel were a regular exercise. We frequented regular bars in the city, which were not usually used by either the Army or the RAF. They had their own haunts which were also attended by their women's' Services. Apart from a couple of RN Nursing Officers, there were no Wrens on the island. It was not unusual for us to go to Raffles Hotel from time to time for specific functions. The dress was black tie and White Dinner Jacket. I particularly liked these events, because if there was a dance involved I could always find a partner. Generally speaking life was very happy go lucky.
On the 15th of June 1955, my 21st Birthday, we as a mess had decided that we would go ashore to celebrate. Unfortunately on that day a racial/political incidence had flared up in the city. The dispute went back to the Japanese Invasion when most of the plantations in Malaya were owned or managed by Dutch people. A Dutch couple named 'Herzog' had managed a plantation further up country. They had decided to flee, but they had a baby daughter called 'Bertha'. They decided that the wisest thing to do was to leave the baby girl with their Indian Amah. The Amah agreed to hide and look after the baby until the end of the war when the parents would return to collect her. The little girl was kept from the Japanese and brought up by the Indian family in the Hindu faith, and as time passed knew no other way and had long ceased to remember that her carers were not her true family. The girls' parents were captured by the Japanese in Sumatra, and spent the rest of the war in a Japanese prisoner of war camp. The husband and wife being separated and not knowing until they were repatriated whether the other had survived. On repatriation they had been reunited and returned to Holland. It took them a while to get over the trauma of their incarceration and get to know each other again, and then in 1955 they started to search for their daughter 'Bertha'. The Indian family had moved out of the plantation in Malaya because of the dangers due to the Crisis and were now living in Singapore. When they were eventually traced they found to their horror that the girl was now 14 years old and was about to be married in an arranged wedding. They tried to snatch their daughter back, but the Indian foster family objected most strongly. She 'Bertha' had quite naturally attracted a very high bride price. The adoptive parents had received no assistance whatsoever in bringing her up and the war had been over 10 years before the blood parents had tried to reclaim their daughter. It was argued that the parents had abandoned her and were not therefore to be allowed to reclaim her. This was also the opinion of all the native population of Singapore. Europeans were therefore not welcome and the riots were caused as a result of the parents trying to snatch the girl, who apparently was completely distressed by the whole affair wanting to stay with her surrogate parents. I believe ultimately the blood parents got their daughter back, but there was a lot of discontent in the city for some time before we could go ashore there again. My birthday celebration ended up with a couple of pints of Tiger beer in the Fleet canteen. No drunken booze up unfortunately as there was a hint if the situation got too bad, the sick berth staff may have to go to help the overstretched ambulance service in the City. Fortunately the need didn't arise.
Life seemed to pass by in total oblivion of the outside world. I was out with a few of the messmates one Sunday, one of them had acquired a motor car and we were on a tour of the Island when we were stopped on a remote beach road by a number of Japanese Soldiers (so we thought) in full uniform with their rifles and fixed bayonets, and their leggings strapped up to their knees. I think we were all terrified particularly when one of the wags in the back seat said "Oy' mate the wars been over ten years and you lot lost." The Jap's turned out to be Indonesian and they were extras in the film being made of 'A Town Like Alice' by Neville Shute. We had to stop in the next village to celebrate our encounter with a glass or two of Tiger Beer.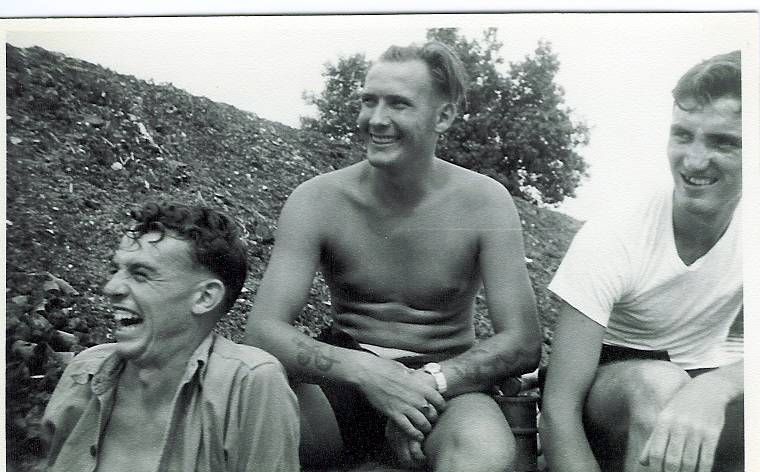 One of the popular weekend events was to take out one of the whaler's and a small supply of food and Beer and go off to some remote beach or swamp and have a Banyan or picnic. The liquid refreshment was invariably Tiger Beer. It was always good fun and cheap. In fact the only cost was the price of the beer. Here are some of the pictures from one of these weekend soirees.
The generosity of the native people when treated with kindness and on equal terms was unbeatable. I went to a shop in Nee Soon village and after a bit of haggling and leg pulling with the shopkeeper, a Chinese man, and having drunk a bottle of his iced Coca Cola. (Every shop gave you an iced drink even if you were only browsing.) I bought a twelve-place dinner, tea and coffee set and asked for it to be sent home to my mother. The set included tea and coffee pots, sugar basin and milk jugs. I can't remember how much it cost but it wasn't a fortune. Having paid and filled in relevant forms for customs etc., I forgot about it until I had a letter from Mum to say she had received it, but the Teapot and a milk jug had been broken. Later I went back to the shop and asked them whether they had a replacement for the items, the shopkeeper said he remembered me and yes he would send the replacement and no I couldn't pay him. He was sorry and apologised most profusely. I was embarrassed by this and told him I really didn't think it was his fault and that he really shouldn't worry about it, it wasn't important. He smiled gave me the usual ice cold drink and we laughed and joked before I left. To my amazement I had a letter from my Mum later to tell me she had received a new bone china tea set complete, not the same pattern as the original, but much more classical. I went back to the shop to thank the man and pay him for it, but he wouldn't hear of it. Where in this country do you get that kind of treatment? The tea set is now one of Elisabeth's proudest possessions, which only gets used on high days and holidays.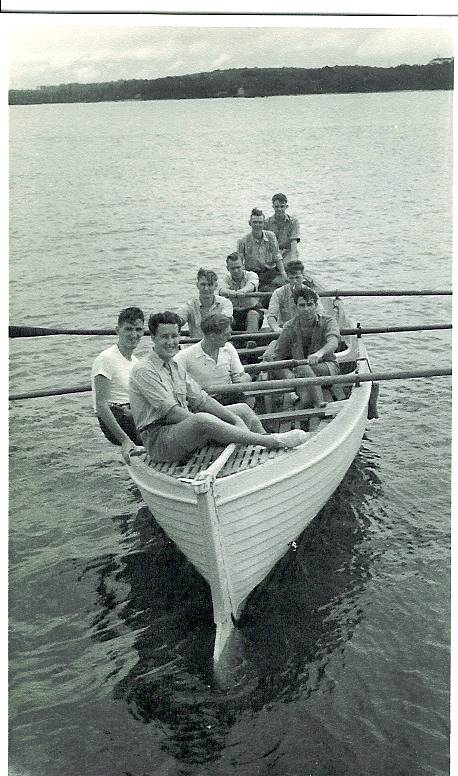 On 2nd October 1955, there was an Inter Services Ballroom dancing competition at the Raffles Hotel. One of the seamen in the Ships Company had told me about it and asked me if I was going to enter for the Navy as there wasn't anybody from the Navy competing. It was apparently intended and expected that the R.A.F. would win it as they were organising it. They obviously had a few budding Fred Astaire who they wanted to give a medal to. I didn't have a partner, but I was told of a girl in the army at Tanglin Barracks who was professional standard and would also like to compete, but didn't have a partner. I found out her telephone number and called her up. We agreed to meet in the bar of the Raffles Hotel, if we were happy to partner each other we would enter the competition, if not nothing was lost. I entered our names for the competition and spoke to a very patronising R.A.F. Sergeant who wished me luck and said it would be good experience for me, but there were two couples at least who were at a very high standard. On the night, I moved around the dance floor with the girl and she was very good, so we were very happy to compete. There were twenty couples in the competition and at the interval after the four dances the number was reduced to four. We were delighted to still be included in the four finalists. There were a number of sailors around the dance floor, all of us wearing black tie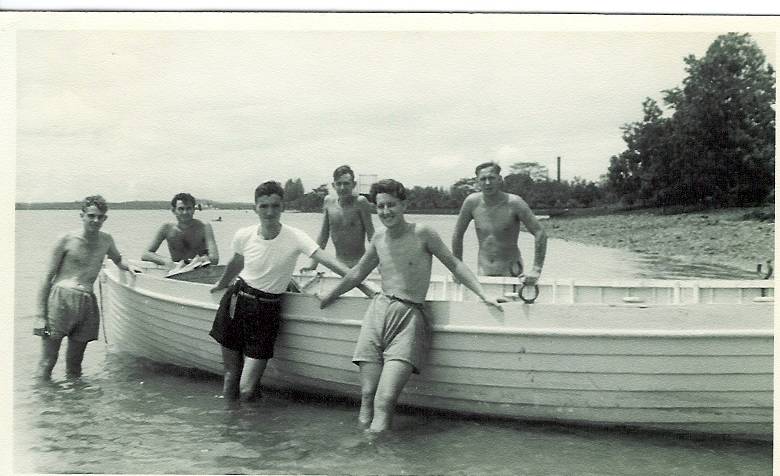 and white tuxedo, so I was thrilled to see I had a lot of support. They all got quite excited that we were still in with a chance. When the finals started we really got into our stride and I was delighted that she could match me step for step, and if I saw that we were being copied I did a couple of the steps in reverse. We were flying and I was thoroughly enjoying myself. At the end we won all hands down, the sailors were applauding and I only wish I knew who was the patronising Sergeant who told me it would be good experience. We both received a silver medal; I wear mine proudly on my watch chain. Definitely one of the highlights of my service abroad.
I was amused to see that during the Royal Tournament at Earls Court, the Field Gun Crew competition results were put up on a notice board in the dining room and there was quite a bit of money changing hands among the men on the results. The ships company were drawn from all three ports and the fleet air arm, so rivalry was keen. It was about this time that the two C Class Destroyers H.M.S Concord and Comus went into refit in the Naval Base. Their ships Companies were billeted in the Barracks, one night after a lot of Tiger beer had been consumed and spirits had run high over the Earls Court competition; both the rival ships companies decided they would demonstrate their superiority to the other. They went back to their mess and brought out their Hammock Lashings and after securing these to the ceremonial cannon on the parade ground raced around the barracks over and under every obstacle they could find. Successfully wrecking the cannon and then they attacked each other fighting for possession of the saluting dais until it too was wrecked, much to the amusement of everyone else who had nothing to do with either crew. It wasn't until the following morning that the result of the carnage was seen as it reflected in the very unhappy face of the Master at Arms. I thought it was hilarious, but as I was about to go down to the Dental Surgery to work I was able to keep well away from the aftermath. No I was not involved but merely a spectator from the balcony outside my own mess.
It couldn't last forever so in February 1956 I joined the troopship 'Empire Orwell' for my journey home. The ship was administered by the R.A.F. and crewed by P & O Liners. There were a mixture of R.A.F, Artillery and Infantrymen cramming the mess decks. N.C.O's and their wives were travelling Second Class, Officers and their wives travelled First Class. There were only 15 Navy personnel in transit with one Officer. I had just stepped over the brow when a Flight Sergeant who had obviously seen the passenger list met me. He asked me if I would work Night Duty in the Ships Hospital as with my rank I could hold the D.D.A. Keys and take charge of the night shift. I was delighted to do this and was promptly moved into my own outside cabin, and messed in the Ships Hospital. There were several wards throughout the ship, in the main hospital in the bowels of the ship there were two wards, one male and one female (empty) there was also a secure ward for psychiatric cases (there was one patient I will comment on) on the poop deck (Right aft); there was a small ward for Infectious patients, it had two young children at the start of the trip suffering from measles. Their mothers were nursing them. There was another female patient with Tuberculosis in a cabin up by the sun deck. She was a schoolteacher serving with the army; she also suffered from a whole bag of emotional, sexual and psychiatric problems. I always took someone with me when I went to visit her. For staff I had one R.A.F. Corporal, and three R.A.M.C. privates. Apparently except for R.A.F sergeants who had qualified in Dispensing, no other ranks in the Army or R.A.F were allowed to carry the key to the drugs cupboard. I was told in these services only Doctors and Nursing Officers did so. In the Navy any Sick Berth Attendant from a Leading Hand and above could do so because they could be well sent to a ship without a Doctor, and Nursing Officers did not go to sea. The meals for all the Hospital Staff were delivered to the Hospital and I learned it was a different menu from the rest of the men on the troop deck.
The psychiatric patient was an army private. He had just come out of the jungle in Malaya where he had received a lot of brutal treatment from his so-called comrades. His problem struck a very strong chord with me, he had a harelip and facial disfigurement not unlike my own, he also had a cleft palate but didn't have a speech impediment. He had become the target for every rotten job going and was always put in the most dangerous position on patrols. He started to rebel after a while and so became jumped on by the Sergeants and Corporals. Almost inevitably he ended up on defaulters and received punishment. He had become enraged by rank and began to start attacking anyone who showed any senior rank to himself, which was just about everyone. He had become such a problem that he was a danger to himself and every one around him, hence the removal home to go to a psychiatric unit in England and then who knows what. The Nursing Sisters were the only ones he would allow near him, any male staff had to go to him three at a time. When I walked down to see him on Night Duty (I had been told not to go near him). I started to talk to him through the bars of the cage he was in, at first he ignored me, then gradually began to realise we had something in common. He didn't know what ranks were in the Navy. I just told him I was a male Nurse in the Navy. We got on very well together and I eventually got him to bathe and shave himself and start to take a bit of pride in himself in spite of the army. The doctors nearly went crazy when they saw he had shaved, he wasn't allowed to have a razor (I lied, I told them I'd loaned him my electric razor, which I didn't own.) He responded very well and we even began to laugh and joke as he relaxed with me. Unfortunately one day while he was being exercised under the supervision of some Military Police he got upset floored one of the men and shinned up the nearest mast. I got dragged out of my bed to go up and get him down. The situation was aggravated by his becoming the spectacle of the day with some of the troops yelling abuse at him. We got the upper deck cleared; it was a scorching hot day so I took my time to coax him down. He was very excited and trembling when I got to him and nervous of being so high up. He allowed me to give him an injection and calm him down then I gradually got him down without electrocuting him or myself. The Captain (P & O) said he refused to keep him on board in his state so we were going to have to divert to Cyprus to put him ashore. I confess I shed a tear when he was put ashore strapped into a Neil Robertson stretcher as he was lowered over the side into a bobbing boat. He was terrified and shouting and swearing at everybody but completely immobile. I had made my mind up; no one was going to get to me like that. I thanked God my life in the Navy had been humane I had never been brutalised like that poor chap. I still wonder what ever became of him.
Every evening at 6.pm the Naval section would gather in the Navy Office on what they called the regulating flat. The duty watch working party from the army would be paraded outside in the flat, to be given their jobs to do. While the Naval Officer would dish out our Rum ration. We all took a sadistic delight in savouring it while the Squaddies offered all sorts of bribes to get hold of a glass. To my knowledge none of them ever got any, sometimes the occasional Army Officer seemed to get into our Office to see fair play? (Or scrounge a drop!) Traditionally Tot time is a relaxed convivial half hour with the occasional bursts of laughter, there is always a true comedian in every mess and it must have been doubly annoying for the men lined up for their duties. I think the Tot tasted nicer because of it. It certainly set me up for the rest of the night.
The trip back from Singapore was very slow and easygoing unlike the outward rush. Our first port of call was Colombo in what was then Ceylon (Sri Lanka), and then on to Aden it was quite an experience seeing flying fish, flashing in and out of the waves racing alongside the ship for miles. Dolphins leaping across the bows occasionally and sea birds that seemed to just hover over the ship effortlessly for hours on end. The weather was perfect and the sea calm. We lay off the harbour at Aden leave for some men were granted but by then it really was so hot I couldn't make the effort so I stayed on board. From Aden we came up the Red Sea to Port Suez at the Southern End of the Suez Canal, the up the through the canal and the bitter lakes to Port Said. The weather coming through the canal was scorching hot by day and freezing by night and I wore my overcoat for the first time for two years when going on the upper deck to see the view. At Port Said the Egyptian traders swarmed on board, selling their carpets, Fez's (Hats) and magicians doing conjuring tricks with baby chickens and trying to fleece every penny from us. Children ran alongside the ship during the day as we went through the canal shouting for baksheesh (Money) it was all very exciting and lively I enjoyed it. In July of that year, President NASSER of Egypt; who had Deposed King Farouk in 1952 closed the Suez Canal to British shipping causing the Suez Crisis. After Port Said we passed into the Mediterranean and rough weather. We were to go on to Gibraltar but had to make an emergency call into Limasol in Cyprus to put our psychiatric patient ashore to have him flown home because he had become so distressed. From there the journey was through driving rain and stormy seas we headed through the pillars of Hercules and never even saw the rock of Gibraltar as we passed by into the Atlantic. Our next stop was Southampton and the end of a six-week voyage.
The saga didn't end there however, after we had enjoyed our Tot on the last evening on board in Southampton Dock, all the Naval ratings were piped and told to fall in, in the office flat. And were met by a Regulating Petty Officer and four Naval Patrolmen (Policemen). The R.P.O. started to shout instructions to us regarding what was expected of us and informed us that after we had been through customs in the morning we would all have to go to Barracks where we would be informed of our new drafts before we went on leave. The soldiers listening were delighted. We were told to be back the next morning at ten sharp with all our rabbits (presents) in one case clearly marked. (The soldiers thought this hilarious; they were going to distribute all their presents throughout their kit.) We were paraded at ten o'clock in the morning. All the Army and R.A.F personnel were already lined up on the dockside in rows. I didn't realise there were so many of them. They all had their kit ready. We were marched over the brow and lined up in front of the rest. Our cases with our rabbits in were taken from us. I never saw the going of them. The customs came to us first being in the front line. Only one man had to pay any duty because he had an expensive camera strung around his neck. He had been told to put it in his case. After the custom Officers had finished with us and started to go through the rest of the troops, with a lot of shouting and bawling we were told to smarten ourselves up and marched to a couple of lorries waiting on the quayside. There was a train alongside for the troops. We were whisked off to the central station in Southampton where two of the Patrolmen had all our cases with our Rabbits in. We were given our cases back; our tickets for our home destinations and some of our leave pay and put on the next train to London. I think we were in London before the train in Southampton was even loaded. The screaming and shouting on the ship and on the quayside was for the benefit of the soldiers not us. I arrived home early in the afternoon. Pad' was at home, but Mum was still at work. I had not told them I was coming home.
Copyright © 2005, The Dempsey Family
Please send your comments to ccd@
classicbookshelf
com