Neal Dempsey, My Life Story
CHAPTER FIFTEEN
Richmond
We settled into our new home over the weekend, I only had 17/- (70p) left when we got home, but Pad had returned my wedding suit for me and sent me the £5 deposit, which was lying on the doormat when we got home. Our first task was to go out to buy some saucepans and food to cook a meal.
On the Monday I went to the Police Station to introduce myself and find out what duty I would be assigned and also to get my new collar number as I had moved from 'H' Division to 'V' Division as it then was. The Divisional Headquarters at that time was at Putney Police Station, although a short time afterwards, boundary areas were changed and for some obscure reason, Richmond sub Division became part of 'T' Division, with its new Divisional headquarters at Hounslow.
The sub divisional police area had the River Thames as its Northern boundary from the Eastern end of Barn Elms to Kingston boundary below Ham. The Southern Boundary was on a line through Richmond Park from Sheen Gate to Ham Gate, and included such places as White Lodge, which was then the premise of the Royal Ballet School and Thatched Lodge, which was the home of Princess Alexandria. It included all Barnes Common to its joining with Putney Common on the East side to a line from Sheen gate on the west around the outside of the park to the side of the Kingston Council boundary. Altogether a very large area that included areas of dense population with some of semi rural tranquillity. The Superintendent of the station was a Supt' Mulcahy M.M. Mr Mulcahy was at first a very daunting man to get to know, but as I got to know him better I developed a very strong respect for him. It was not unknown for him to appear on the streets in the late evening in full uniform and get involved in any situation that might develop. I learned later that he had been a Sergeant in an Infantry regiment during the war and had single handedly taken out a German Machine gun position while advancing through France. His reason being that they had stopped his platoon advancing and doing their job, and were beginning to annoy him. He was forever ribbing me about my time in the North Atlantic and complaining that he didn't see any silly little white hats in the trenches. I replied by saying that I didn't remember seeing any brown berets in my little rubber dinghy when I could have done with a helping hand.
At that time there were no vehicles at Police Stations except the two general purpose Hillmans, two Wolseley Area Cars, and an Austin Van (Black Maria). There was a suggestion that the Police were going to buy Velocette Motor Cycles for beat duty, but at that time it was just a hint. The only men allowed to drive any of the vehicles were the trained drivers. I couldn't drive and at that time had no real wish to. I certainly didn't think that I would be preferred over other men who had been at the Station longer. I soon got into the swing of things and had my fair share of arrests and involvement with reporting offences and dealing with all manner of situations. I was beginning to enjoy myself very much, Elisabeth was happy at the Hospital and we were making friends, our fortune was beginning to change and we were beginning to be able to save money to buy our own house.
There were occasions when we had a change of routine by having to go 'Up town' for state occasions. The Ban the Bombers had been replaced by the protests outside the American Embassy by the Anti Vietnam War Demonstrations. The Ban the Bombers had by and large been quite peaceful, but this new trend was becoming vicious. Rent a mob was beginning to show its teeth and their target in the main was the Police. Police were getting more and more injuries as a result of being targeted with missiles, mostly half pennies and pennies, which couldn't be seen and cut the face. We were issued with plastic face shields, which could be clipped on in front of the helmet, but this was not very successful as they shattered easily and caused injuries themselves.
Meanwhile back at Richmond, things were looking up. We were going to get personal radios for beat duty. We carried a pair of sets; one was a receiver and the other was a transmitter. By today's personal telephone standards they were huge. Each was 4" x 2 1/2" x 3/4" and each had to have a fresh battery as the relief's changed and handed over equipment. There were very strict instructions as to the use and control of these sets, but typically the rules were not strictly adhered to. At first the crystals tuning the sets were selected at random, because it was a new experience for the Police technical branch. The sets were on short wave, but so to were the radios of incoming flights to Heath Row Airport and there were very quickly a few strong complaints from the Pilots about radio conversations cutting across their transmissions to air traffic control. One pilot allegedly cut into a police officer being directed to an incident at Heathrow and was being told to turn left and go through the underpass, to get to terminal one. The Pilot didn't think his aeroplane could do that, he was not amused and made a strong protest, consequently Scotland Yard re set all our radios. But in spite of the teething troubles it was a step into the future, which I believe, gave us mixed fortunes. On the one hand we could communicate more quickly and arrive at scenes of incidents sometimes within seconds. On the other hand younger Officers were beginning to talk to each other all the time instead of members of the public. Some Officers were seeking advice before trying to act on their own initiative, which I regarded as a backward step.
One of the rude awakenings I had when I arrived at Richmond was the fact that we had to do School Crossing Patrols. In those days there were no School Crossing ladies or Traffic Wardens. This was all done by Police Officers. We would be told when we went on duty at 5.45 in the morning, which was our school crossing for the day. We had to be there half an hour before nine until fifteen minutes after nine, and fifteen minutes before lunch hour until fifteen minutes after lunch hour. It cut right into our work and patrols and was a real tedium. One morning I was on a very busy road, the Lower Richmond Road leading to the Chiswick Bridge, always a very busy dual carriageway. I had arrived on time and after ten minutes there ceased to be any traffic coming from Richmond. After a while I walked back toward the roundabout at the next junction to find out why, and there found an accident had occurred. All traffic was at a standstill; an elderly lady had mistaken the thick white hazard lines at the exit of one of the roads into the roundabout as a pedestrian crossing. In crossing a lorry trying to pass her had caught her with its tailboard and thrown her. It was raining and a car driver was holding a large umbrella over her. I knelt down beside her and after talking to her and giving her a cursory examination decided she had a fractured pelvis. I was told someone had called an Ambulance and so making sure she was being looked after and was not bleeding I started to take particulars of the accident. The Ambulance arrived and I quickly told the crew what was wrong with the lady and urged them to be careful as they lifted her. They paid no attention to me and just picked her up by the ankles and shoulders and dumped her on a stretcher. I shouted at them to take more care but the driver told me to mind my own business and get the traffic moving. He knew his job and I should do mine so he said, and made some remark to the man holding the umbrella about young Police Officers, which I didn't hear or care about. The Lady was taken to Richmond Royal Hospital and eventually admitted to the ward where Elisabeth was Ward Sister. Sadly the lady died several days later of an infection directly as a result of splinters from the fractured pelvis, discovered at the post mortem. Subsequently an inquest was held and the Ambulance crew attended including the Lorry Driver and other witnesses including the driver with the umbrella. After medical evidence was given the Doctor was released then the Ambulance crew gave evidence so that they could also be released, but the Coroner held them back much to their annoyance. Several witnesses gave evidence including the umbrella man who described in detail my action at the scene, in particular how I had examined and provisionally diagnosed a fractured pelvis. He repeated what I had told the Ambulance crew and how I had shouted at them when they rough handled the patient, and what the crew said in reply and the comment they made about me afterwards. I was very embarrassed by all this. The Coroner called me to the stand next and cross-examined me about my service and particularly about my Naval service. The ambulance crew were not happy to know I was more qualified than they were; he thanked me and then let me stand down. The Ambulance crew were recalled and told where they fitted in the frame of things by the Coroner who recommended that they be suspended until they successfully requalified. As on all these occasions there was a Senior Ambulance Officer present to observe the proceedings and he was definitely not amused. I had suddenly become 'persona no grata' at the Ambulance station, so any further tea breaks there were over. The up side was that I was called into the presence of Mr Mulcahy afterwards and congratulated for my part in the incident and shown a very flattering letter sent by the umbrella man.
On the home front things were looking up, we had decided that we would soon be able to buy a small house and started to look around for somewhere suitable. We had made a number of very firm friends, not least was the Sister in the Casualty department at the Hospital, 'Esther' a spinster lady who came originally from Switzerland but had made her home in England. Esther became a regular visitor to our home and a great friend. We saw some very nice houses that were just outside our reach, and there were some houses, which really were just not right. Eventually we picked on a small terraced house at Teddington, near Teddington Lock just outside Twickenham and about 10 or 15 minutes to work on my bicycle. Elisabeth gave up her job at Richmond Royal Hospital and got another as the Sister in Casualty at Teddington Hospital. We had great fun learning to hang wallpaper and do a little D.I.Y. not very successfully but passable. We bought fitted carpets and our first suite of furniture for the dining room of which we were immensely proud. The moment when I crossed the threshold from the front gate through the front door for the very first time are impossible to describe I was so happy and proud. Our own house at last, it didn't matter that it was so small, and we were so happy there.
Back at the Police Station news was coming through that we were definitely going to get motorcycles for the reliefs. We were to get 5 machines; one was to be fitted with a force radio to act opposite the area car. 3 were for the beat Officers and one for the Patrol Sergeant. Applications were requested urgently for Officers to go to Hendon to learn to ride motorcycles. My immediate reaction was 'not Pygmalion likely' because I was a little bit worried about the things, and let the heroes go first. One young P.C. who had his own machine was disappointed because his application had been turned down. I suggested that he should reapply but instead of saying what he could do he should say that he wanted to further his experience and be of more use to the job instead of saying he wanted to whistle around at the jobs expense like the flying wombat. I was being sarcastic and I thought humorous, but it backfired because he did reapply, his application was turned down. I was called up to see Mr Mulcahy and told my application was approved and I was to go to Hendon the next week to start my course. I protested I hadn't applied, but he told me I had applied by proxy through the other lad who had written word perfect what I had told him to and the superintendent recognised my style. I was now committed to three weeks learning to ride a motorbike. I went along not feeling very confident; the first three days were dedicated to the Highway Code and the mechanics, so now I know all about the 'Otto Cycle!' Then we actually started to ride the machines around Hendon aerodrome (Now a housing estate I believe) I began to get more confidence and at the end of three weeks I was thoroughly enjoying myself.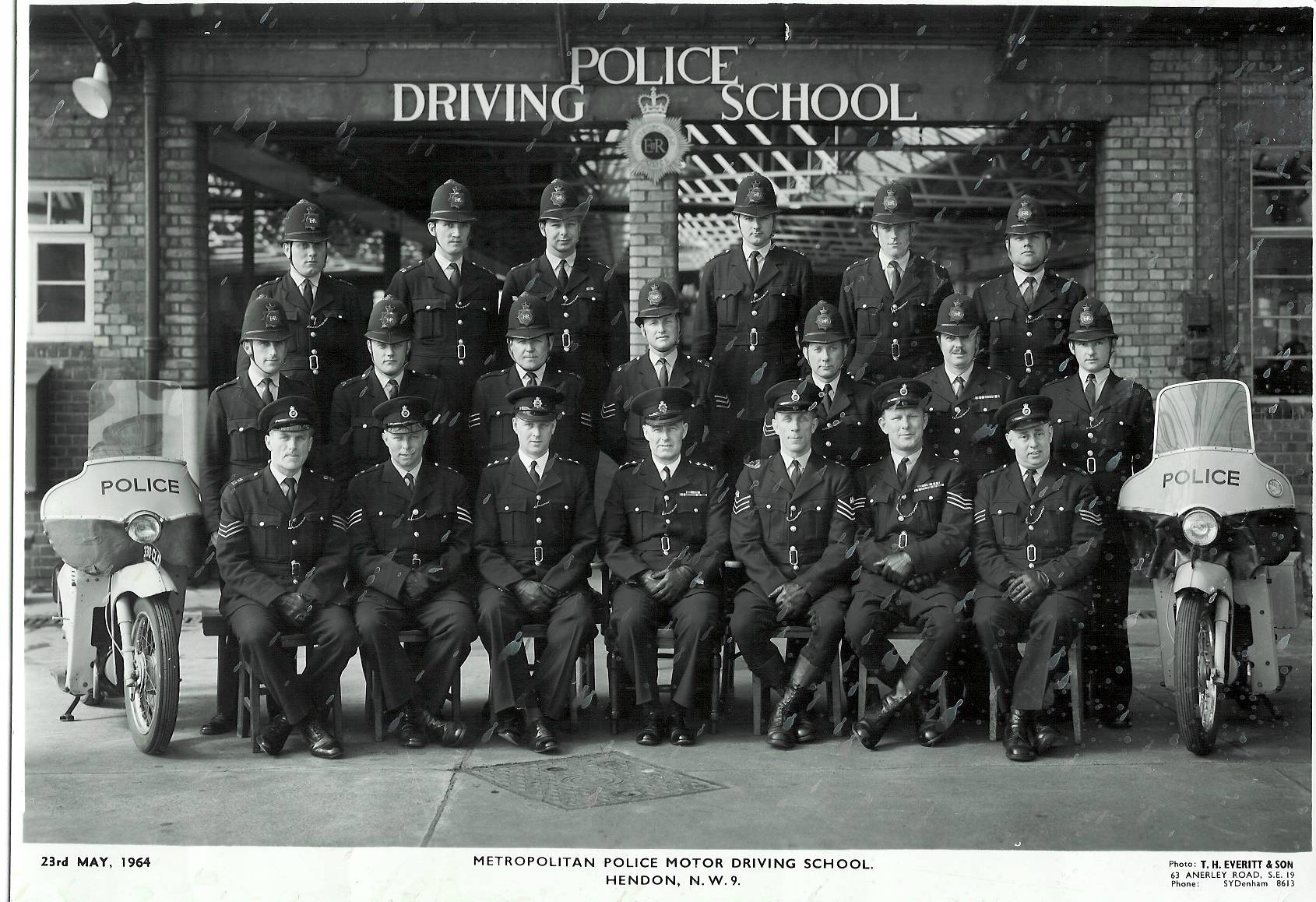 According to this picture, I am second in on the left in the back row; I am beginning to put on a little weight. Home cooking is obviously doing me good. The helmets were reinforced with thick cork lining with a stronger and wider chinstrap to hold it on. Helmets were not yet compulsory when riding a motorcycle. The lighter weight beat duty helmet was for foot patrol. The motorcycles looked exactly like the ones in a children's programme on T.V. and became popularly known as Noddy Bikes, or just Noddy for short. The instructors rode powerful Triumph machines on the road and were not averse to getting behind and pushing the noddie's from behind with their foot against the pannier boxes. It happened to me once coming up the hill out of Brighton on one of the long runs. I nearly fell off the machine laughing.
I returned to Richmond with a driving licence and felt reasonably confident. I felt proud when the next time I paraded I was posted to a motorcycle beat and was able to practice all I had learned. There is no doubt that more experience gave me more confidence and I became really comfortable on the machine. One of the side benefits from the Noddie's was that as they were water cooled, they were quiet and time and again when an Officer was sent to a suspected burglary, whether he was a foot Officer or a Noddy man; all the bikes in easy distance would zoom in, even from neighbouring subdivisions. All of a sudden Noddy men who were getting to them more quickly and quietly were arresting the local villains while they were still committing the crimes. We were delighted and the local people were thrilled to bits to see us.
In the first year at Richmond I was obliged to attend a refresher First Aid course at Putney Police Station. The course was run by a P.c. with 20+ years service. To be honest he was not a good lecturer and simply read straight from the First Aid book, which I found demeaning because I already knew how to read. The First Aid book was probably the worst edition ever published because the artist who had done the illustrations did not know his anatomy, and the authors hadn't checked before it went to press. At the end of the session I approached the Instructor and asked him whether he minded if I made a criticism of a point he made. He asked me what it was, and after I told him he got quite nasty and told me if I knew better than him I should become an instructor, until that time I should keep quiet. I was a bit put out as I thought I was being tactful and discreet, there was no one else in the room at the time. The upshot was that I put in an application to become an Instructor and within months without having been told the result of my application, I was called to Hendon Training School and put through a First Aid Instructors course. Our final test lecture had to be given to a class comprising all the Force First Aid Instructors, who were traditionally allowed to give us a hard time. My elected talk was to be on Injuries to joints, which I didn't particularly enjoy until some of the heavy guns started to ask awkward questions. I weighed into them outside the First Aid manual and shut them up in quick order and almost immediately the examining Doctor stopped the exchange and said to the class I obviously had knowledge and experience outside the remit of the First Aid manual. I passed.
I returned to Division and was very soon lecturing on First Aid. It was a bit daunting at first to find I was teaching Officers with many years experience and of all ranks up to Chief Inspector. I developed a technique of explaining what the subject was about giving a more in depth description than that in the First Aid Manual. Then dealing with the practical in a more personal way. I confess that in the beginning I was very nervous, my nervousness was due simply to inexperience. I simply had to get used to talking to these men and women and have confidence in myself.
In between teaching sessions I was whizzing around the patch at Richmond thoroughly enjoying myself. It was now over 18 months since I had passed my Motorcycle test and the Superintendent told me he was putting me up for a driving course. I became quite excited about this, but not overly confident. We bought a second hand Morris Oxford saloon that today would not have passed an M.o.T, for £120; but to us it was a dream car. It had steering column gear change and a bench seat at the front. The steering wheel was slightly offset so the driver sat neatly comfortable in the corner of the front seat. We loved it, and with 'L' plates on and Elisabeth supervising. (She was a clever clogs having had a driving licence since she was seventeen.) We felt like royalty, although the cost of petrol at 4/6d (22 1/2 p) a gallon it was expensive. I went back to the Driving School in February and had a 5 week course driving just about anything that had 4 wheels, and thoroughly enjoyed it, passing out with a full driving licence.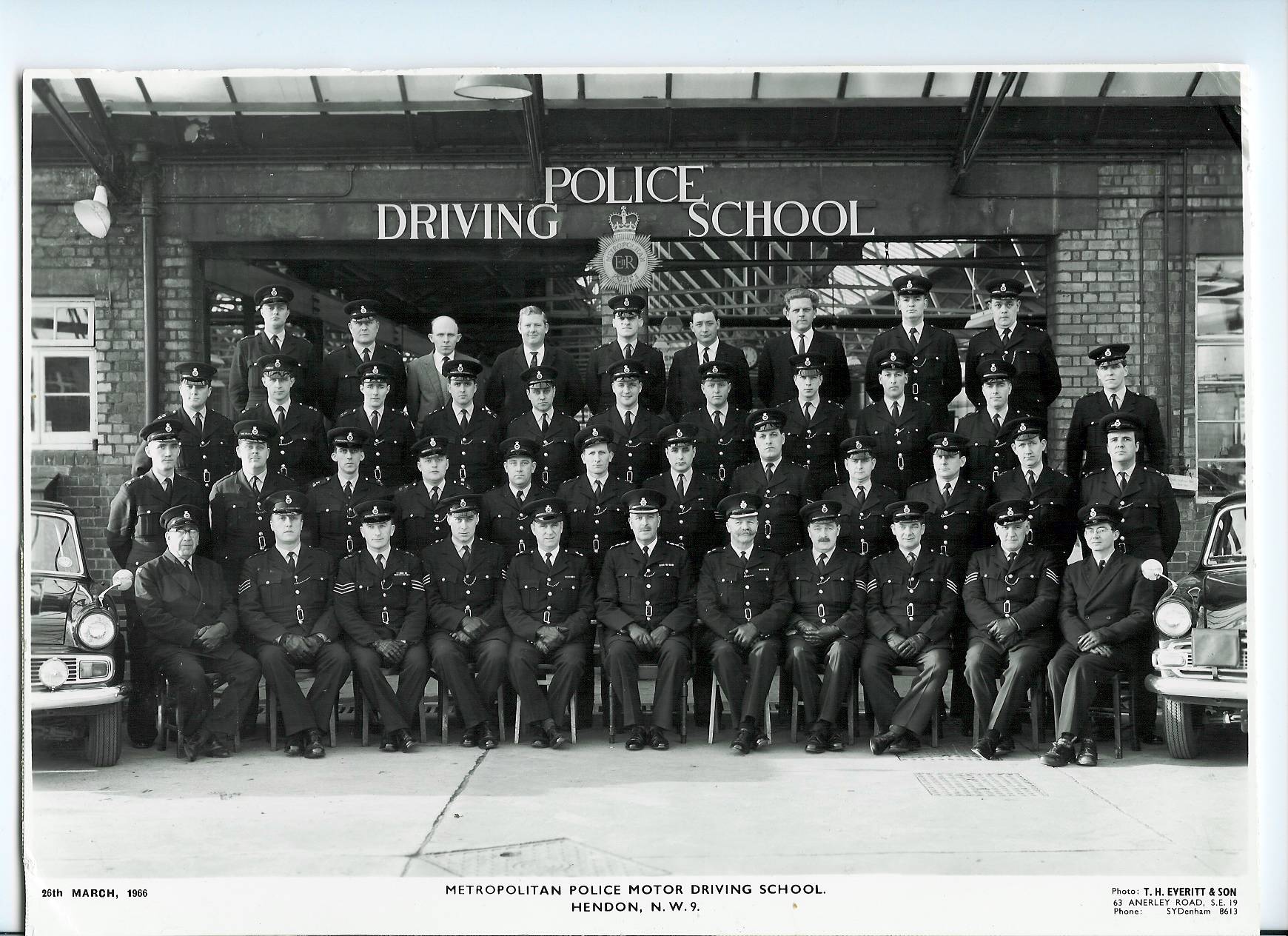 I am on the left end of the second row behind the seated Officers. The cars were Hillman Minx's, the standard General-purpose car of the day.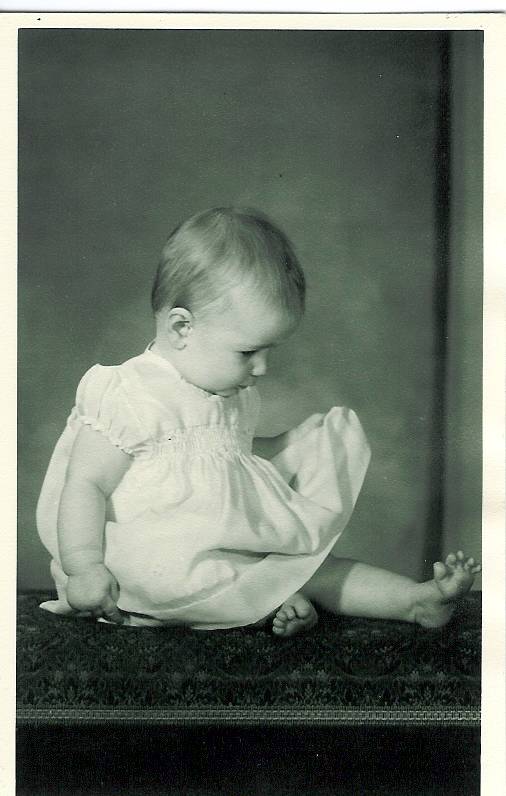 On the Home front things were beginning to look up even higher. Elisabeth was expecting a baby. We were thrilled to bits, but the ghosts of my past began to worry me. My Mother insisted that my impediment was hereditary and my children would be at risk. I believed quite differently, I believed that the damage was caused by trauma to the embryo between the tenth and fifteenth week. This I believe had been the cause in my own case according to my mother's account of the difficulties during her pregnancy with me. I hoped and prayed fervently that I was right, but kept my apprehensions largely to myself. Elisabeth returned to the London Hospital to have the baby and I sat with her for the whole day waiting the great event. Elisabeth's mum had turned up to look after us for the event and also to enable her to be present to get a first view of the new addition to the family. I wasn't present for the actual birth, but I was there for the weigh in and shed a few tears to see the most perfect little baby ever, a little girl who was to be called Louise. I was on cloud nine and I confess when I left the Hospital to go home, I called in at the Coach and Horses public House at Kew Green. My uncle Ned and Auntie Margaret immediately took me to the 'Veranda Trattoria', an Italian Restaurant in Richmond to celebrate. I got home at near midnight and for the only time in our long relationship, Elisabeth's Mum told me off, because I had got home a little late and she was sitting up waiting and worrying, and I had come in a little bit high. I was very sorry and apologised but I was too overjoyed and proud to be depressed. Louise was such a perfect baby with not a single blemish on her little face. I have been forgiven and in the morning the race was on, -- Who would get to see the baby first, Elisabeth's mum or my mum? I think my mother won by a whisker, but I don't really know. It was a very proud moment when I drove up to the front of the London Hospital in my old Morris Oxford, with Elisabeth' mum as a passenger to collect Elisabeth and Louise and bring them home.
I had become quite popular within the First Aid training circuit and within a year to my absolute amazement I was invited by the One District Women's Police Superintendent to attend at Notting Hill Police Women's Section House to train the Women's First Aid Competition team. Apparently they had never ever won a Competition, but had been good runners up on a number of occasions. Their current trainer was retiring and was a bit disgusted at my appointment as he had already lined up a more Senior Officer to take his place. I was regarded with a certain amount of scepticism by the Police Women, and started by setting them a few tasks to do, assessing each one individually. They were not impressed when my verdict was that they had a lot to learn if they wanted to win competitions, it was greeted with a stunned silence. I started to explain how each one could improve and by the end of the first week they were looking a lot better and they actually began to trust my judgement. There were two big competitions in the offing, the first being the No 1 District Competition in which they competed against all the male teams in the Division. They said they were not expecting to do as well because the men were stronger and could lift patients around more easily. They were bemused when I told them that this was absolute nonsense and there was no reason why they couldn't thrash the men's teams. The next competition was against the women's teams of the other three Districts, normally won by Three District or Two District. My verdict was to forget them it was our turn. The winners of that Competition went on to an Invitation Competition against the City of London Ladies and the British Railways Women Police. This was really a junket for the Commissioner's and Senior Police Officers to get together and socialise, surrounded by all the attractive Police Women from their Forces and bet on the Competition. City of London seemed to have the monopoly of this event so I was told. I was determined to upset those apple carts and said so to the girls so this was what we were going to aim for.
I worked hard, but they worked harder. When we got to the One District Competitions the girls were being chatted up furiously by the men's teams and being patronised by senior Instructors, but they smiled and said nothing even though they were a little nervous. They were the last team to Compete and there was a dead silence as the regular teams watched their performance. They were good, certainly better than they had been and there was cheering when they finished much to their embarrassment. I cheered when the results were announced and they had won. It was the first time in my life I had been mobbed by six women all at once. I had watched their performance carefully and had a list of weaknesses. When we returned to training I set about sorting these out and targeted the Women's District Competitions. I worked very hard with them and would not let them get away with anything, the result was that they won the next Competition with a clear majority. The Women Superintendent thought I was brilliant, but I wanted to beat the other Forces as well. I put the girls through the mill again and when we went to the City of London who were playing host to the Competition on that occasion being the holders of the trophy, the girls were nervous, but despite that they were brilliant and won hands down. My name was being thrown around in the First Aid world, and I had the full support of the Women's First Aid world.
At home Louise was blossoming and receiving all the attention her little life desired, being well fussed over by both grandmothers at every possible opportunity together with her Auntie Barbara. Within Twelve Months Elisabeth was expecting again. Again the shadows re-emerged from the past, and I became worried and hoping that this baby would be as perfect as Louise. But this time the confinement was to be at home, Louise slept very well at night and her bedroom was a small room opening off our bedroom. When the time came for the delivery I had been at Notting hill, training with the Police Women again. After Louise had been put to bed and Elisabeth had settled down with her labour pains growing more intense, but it wasn't time yet. I lay down for a while and actually went off to sleep to be woken at about 1.a.m. by Elisabeth to ask me to get the midwife. I telephoned her and she was with us in a very short space of time. Things seemed to go at quite a rapid pace from then on, and it wasn't long before I clung to Elisabeth as she gave birth. We were both in a sweat, she because of the pain she was going through and I couldn't help her with that, and myself with immediate concern for the baby about to enter our little world. The baby was born and when we told Elisabeth it was a perfect little boy, she literally screamed with delight. Simon had joined our little family and he was perfect like his big sister. I would have thought with all the noise we were making Louise would have woken up and listened to hear her the whole time, but she never moved or made a murmur. I was so relieved and delighted I was almost drunk with happiness. It took Elisabeth some little while to settle down to go to sleep, Simon was made comfortable and it was almost morning. When Louise woke and I had seen to getting her out of bed and all that was necessary I took her in to her mummy and she saw her new brother in his little cot beside Elisabeth's bed, Louise looked so proud, just as if she had done everything all by herself.
I had telephoned Hereford the evening before to tell Elisabeth's mum that things were happening, and she was going to come to help us that day, so I was hoping she would arrive for me to get to work. (Paternity Leave was not even a far off dream at that time) I had a busy forenoon, and was dressed and ready to go to work at 1.p.m. when Elisabeth's mum came down the street after having travelled that morning from Hereford by train. I only had time to hand Louise over, tell her she had a little grandson and mother and baby were doing fine before I went off to work, (First Aid Instructing at Notting Hill Police Women's Section House) I needn't have bothered really, because by the time I arrived, it was almost time to go home again, the traffic being so horrendous at that time; and precious little work was done, the girls all being far more interested in hearing about Elisabeth and Louise than listening to me talk about First Aid, and anyway I really was too tired to be very involved in teaching anybody anything. These girls were very confident and extremely advanced in First Aid Terms, so to leave them to their own devices was not time wasted. They were as keen and anxious as the Divisional Chiefs to do well, and their successes in this field brought them into recognition and they inevitably did equally as well in the other aspects and branches of their professional careers also. On that particular day however, my keenest ambition was to get home again as quickly as possible to see and enjoy my now complete little family.
Back at Richmond I felt very much part of the establishment, I was in a position to do all the duties available. The drivers were a select group limited to only six men on each section. In those days every Police Driver had to be qualified by the Police Driving School at Hendon, regardless of any qualifications obtained outside the Police. Most men or women Police Officers possessed a driving licence of some sort when they joined, but it made no difference. I began to be more and more involved in the operational side of policing and relished it all.
By now Richmond had become part of 'T' Division and I was being sent to Hounslow to train the 'T' Division men's First Aid team as well. It was all very flattering, but I was beginning to feel that I was being directed away from what I really wanted to do, namely to be a Policeman not a First Aid Instructor. It should also be remembered that in those halcyon days the Race Relations Act, and the Sex Equality Act had not been introduced into Parliament, consequently there were fewer Police Women, and their duties restricted in the main to caring for Women and Juvenile Offenders. It was not unknown to have Female Warders working in the larger stations specifically to chaperone and/or search women prisoners when they were brought into the Police Stations; or to work in the cell blocks at night time if there were not any Police Women available.
Almost all the First Aid Instructors throughout the Force were invited to assist and give Instruction to outside organisations, which the Force encouraged because it gave another link into the Police Public relations endeavours. I became involved with the 'Watney Brewery' St John Ambulance Division. This was a small Closed Division, that is to say that it only recruited from within the Watney Brewery employees, and confined its duties to functions within the Brewery organisation. At first I was only invited to assist them with their Annual First Aid courses. I must say that they were not very skilled in their function, and I gradually became more and more involved with them eventually even joining the Division to enter straightaway as a Sergeant Instructor. I became more involved to try to raise their standard and the easiest way to do that is very often by example. The Division was a Combined Division, which meant that they had Female Nursing members as well as the Ambulance men. It was a pity to have to say it, but the Nursing section was as sadly lacking in their skills as were the Ambulance men in theirs. I coerced Elisabeth into giving the Nursing members in particular some tuition to bring them up to the required standard of the organisation, and then invited the men along by convincing them that to be any good at one skill, one really had to be proficient in both. The quality of the Division increased notably in the few short years I was with them, this was reflected in the attendance and all round smartness and pride of each individual.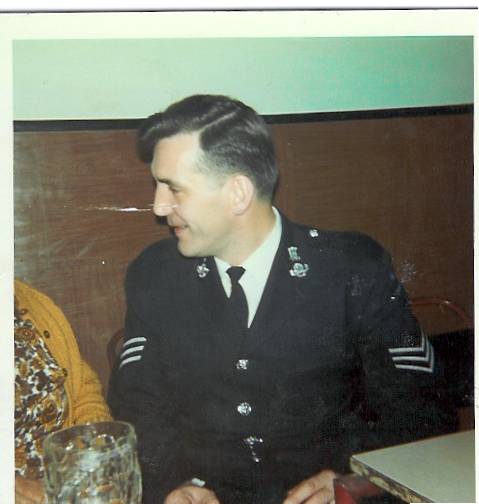 After having served at Richmond for four years, there was a shake up within the Division. This meant that men were being moved around to different Stations for no other reason it seemed than that the Senior Officers felt that a new broom swept cleaner; the Officers in station were becoming too well known and perhaps a little complacent. From time to time we were expected to do Security duty at Thatched Lodge in Richmond Park, which was really a lazy duty. Princes Alexandria gave birth to her first-born son 'Robert Bruce' during this time. He immediately became known at the Police Station as 'Spider'. I was moved to Barnes Police Station which was a small station overlooking the River, a beautiful location in the heart of an enormous Force area. The other Officers in the Station were a grand lot of men, and there was a terrific rapport between the Officers and P.C's. all the beats were 'Noddy' beats, with a Sergeant and 5 P.C's on each relief. The O.I.C was an Inspector, who was considered by his peers to be in a plumb job. There were no recruits at the Station and every man had at least 5 years service, which meant that every man was competent, if he wasn't he soon got shifted back to Richmond Police Station, which was our Sub Divisional Headquarters.
Barnes was a very happy station, everyone did their fair share of work and our Crime Arrest figures and Traffic Process reports were equal to any station in the greater London area. Despite it being a very happy and efficient station, it was there that I experienced my first example of Police Corruption that will haunt me for the rest of my life. The circumstances were simple; I was operating on the Radio Noddy, and was sent to a Serious Road Traffic Accident on a road known as Castelnau between Hammersmith Bridge and Putney Common. A brand new Ford Zodiac saloon car had been received at a car hire show room that day, a Saturday, at the Putney Common end of Castelnau. At seven thirty in the evening, in the Catholic Church about half way along Castelnau, Mass had ended and the congregation were leaving to go home. Within a few feet of the Catholic Church entrance there was a well-lit Pedestrian Crossing. One of the managers from the car show room had decided to take this brand new car out for a test drive, and drove toward Hammersmith Bridge to try to see how fast this car could go. The road itself has a 30-mile an hour restriction on it, which the driver would well know. The car was travelling at a speed in excess of 120 mph when it hit a lady as she was crossing on the Zebra Crossing. She was crippled with arthritis and couldn't hurry one way or the other to get out of his way even if she had seen him coming. She was a large elderly lady who weighed in excess of 100 lbs. But was thrown from the bonnet of the car 30 yards from where the car finally stopped; 15 yards on the far side of the crossing from Putney Common. There were twenty or thirty witnesses who actually saw the accident happen. The lady died three days later in Hammersmith Hospital as a direct result of her injuries and massive shock. At the scene of the accident, I cautioned the driver and reported him for every offence that was disclosed at that time. After her death, I had to go to the mortuary at Hammersmith to identify her to the Coroners Officer and the Police Inspector from Hammersmith Police Station who now assumed responsibility for the case as she had died on his patch. I was not allowed to see the driver again on the Inspectors insistence in spite of the fact that I maintained that the driver should now be charged with 'Causing Death by Dangerous Driving'. I was subsequently warned to attend Barnes Magistrates Court to give evidence of the accident, in the prosecution of the driver. I had not been invited to give evidence at the Coroners Inquest as I should have been, but I was still to naive to suspect something was wrong. I was horrified to see that he was to be charged with the lesser charge of 'Failing to accord precedence to a Pedestrian on a Pedestrian Crossing'. No mention of speed or death was mentioned. I was so angry I felt physically sick. When the driver pleaded guilty to the charge, his Solicitor suppressed my evidence to such a degree; I felt I needn't have bothered getting out of bed to attend court. The driver was fined five pounds and warned that next time he would get his licence endorsed. I stormed out of court in a rage and was ordered back into the Court by the Clerk of the Court to apologise to the Magistrate. I went back in, in a real temper and said to the Court I would apologise when the Court could explain why they hadn't called the injured party as a witness. I thought the Inspector was going to have an attack of apoplexy! The Clerk of the Court meekly asked where was the injured lady? Before anyone could reply; I told the Court she had died as a direct result of the accident, when the car was travelling at a ridiculously excessive speed. The Inspector was on his feet in a second to flannel the Court with a basketful of lies to explain that I was not fully aware of the ladies Medical History, and that she had a History of suffering with Thrombosis, and it was a Thrombo-embolism that killed her which was not as a result of the injuries she suffered in the accident. I was not in court to hear the result of his lies. When Court was over the Driver, the Inspector and the solicitor threatened me as to my future. I insisted that if they wanted to make any allegations they should make them in front of my Chief Superintendent. I heard nothing more but I saw the Inspector driving around a week or two later in a brand New Ford Zodiac, which I knew he could not afford to buy. That driver would have received 3 to 6 years in prison if that case had been conducted fairly in the Crown Court, as it should have been. I was completely disillusioned with the criminal justice system then, and sadly over the years since, it doesn't seem to have improved overmuch.
There were lots of compensations for the occasional disappointments in life. In the Police one was expected to take a very serious view of life. The job and the responsibilities that went with it dictated this; in fact sometimes it was a matter of life and death. Having stated that, it did not preclude a sense of humour and fun, and we certainly had these attributes in large doses. Occasionally when my relief was on early turn whilst I was still at Richmond Police Station, the Relief Inspector would be very much involved in some deep or complicated affair elsewhere (Like oversleeping and being too proud to admit it. But his position and rank allowed him to occasionally bend the interpretations of various phrases) the Sergeant would parade the relief in the usual manner and instructing the Noddy Bike riders that there was a meeting after parade. As soon as parade was over we all paraded out of the station. The footmen would walk out to their beats to inspect their shops and security premises. The 'Noddy' men would inspect their machines and check to see the log books and mileage had been properly recorded and that the bikes were ready to go with no unreported damage to them. We would then process in a dignified column behind the Sergeant like mother duck and her brood of ducklings from the Police Station, through the town and in stately fashion along Kew Road to Kew Green where we cut down to the river and lined up abreast under the bridge facing South toward Kingston. This would be at about 6.15.a.m. When we were lined up and ready the Sergeant would either raise his hand and drop it smartly, or just say GO mostly after he had already accelerated away. At which command we would race like fury along the tow path like the hounds out of Hell to the aircraft factory at Kingston, then get back on the road to race through Ham village and up Richmond hill to the star and Garter Home where we would turn and hurtle down to the Police Station where we would wait for the last man to arrive, who would then buy the rest of us a mug of tea and a slice of hot buttered toast. The total distance was about 8 miles, and the towpath was not of even width, which lent itself to all manner of hazards and collisions. Many a bent leg shield has been straightened out with a truncheon, and many a broken spark plug was replaced, all be it unwittingly, by the district garage. The startled looks and panic of early morning fishermen to collect their tackle together was almost hysterical to see. It was all good if not wholly legitimate fun. Our riding skills were honed and sharpened to razor sharp precision and condition.
On one occasion I was checking property on Kew Green on a Sunday morning when I heard Richmond calling up a Police Woman to get her to call in to the Police Station. I heard her reply to the effect that she was near the boathouse at Kew Bridge and wouldn't be in for at least 3/4 hour unless she got transport. I called in to say I would pick her up and take her in. because I was also a Car driver as well as a motorcyclist my offer was accepted. Her face was a picture when I arrived on the motorcycle with the large force radio over the back wheel. She was wearing a skirt and at first refused to get on the machine saying she was not going to show her stocking tops to the whole population of Richmond. I convinced her that I would take her down the towpath as far as Richmond Bridge, which was only 100 yards or so from the station that she agreed. We had a fast and furious four-mile ride along the towpath to the startled looks and occasional cheers of fishermen; her skirt really was a little bit tight. I didn't stop at Twickenham Bridge but continued in to the 'Nick' at speed, so her embarrassment was really halved before anyone could see her. The ride made my day, she was most indignant to my face, but I did hear her boasting to some of the other W.P.C's later.
I cannot remember the exact date, but it was about this time that the Police started to buy smaller Police vehicles to replace the 'Noddy's'. The first cars to be bought in my area were Morris Minors, and then they bought Ford Anglia's. This brought about a small revolution within the rank and file of the Police Force. There were those Officers who were quite happy to drive around in a Morris Minor, but wouldn't be seen dead sitting on the back of a Noddy if the weather was wet. The establishment now realised that they suddenly had far more motorised vehicles than there were competent drivers. Hitherto an Officer had to have qualified from Hendon Police Driving School before they could drive a Police vehicle, now they conceded that an Officer who already possessed a full Driving Licence without any blemishes on it would be given a Driving Test by an examiner from the nearest Police Garage, and if successful could be authorised drive the new small vehicles with constraints. That is to say, they could not pursue another vehicle where a crime was involved or a criminal was being carried. They were not exempted from the rules governing the Highway Code. (They could not cross over a red light for instance or exceed the speed limits.) Because they could drive a car without having to ride a motorcycle first, there were a flood of applications to drive the new cars, but none to drive the motorcycles, so the motorcycles were gradually phased out. The new cars were painted in a blue or black and white squared livery, which instantly earned them the nickname of 'Panda' and the name stuck. It was not long before there was a spate of accidents involving Police Vehicles; on such occasions the press were very quick to put the blame on Police Drivers. No one could argue with the truth of the fact, but they were rarely Police Trained Drivers, but the media never acknowledged this; so overnight a cherished Police record was broken. The new type Panda Drivers started to behave like Formula one racing drivers and driving beyond their abilities, a real tragedy and a continuing danger to the very public we were supposed to protect.
In the middle/late 1960's The Police Force nationally was still using the warning bell on the front of their vehicles together with the rotating blue light on top of the vans or cars to warn other drivers of their coming and to clear out of the way to let them pass. The bell was not very efficient and did not always achieve its desired affect. The Fire and Ambulance services had started to copy the American two-tone horn on their vehicles to good effect, and so the Metropolitan Police decided to experiment in a couple of areas in the London area to see what improvements could be made. T2 The Richmond area car was one of those chosen for trials. One day I was part of the crew on T2 when we were returned to the Station yard 15 minutes before going off duty to complete our records and check the vehicle for the next shift when an emergency broadcast came through from Scotland Yard to say that there were Suspects on Premises in a private house off Kingston Hill (Which was on the far side of Richmond Park to ourselves) The Kingston car was Not available would any car respond? We immediately teased our driver by saying we had better not because we would be the last car to get there anyway and we couldn't stand the humiliation. The next second our driver had switched on the two tone and lamp and we were screaming out of the yard, I swear on two wheels. He said to the operator take the call. The yard answered "Thank you T2, Twickenham, Hammersmith and Putney are also on way." Our driver said, "That does it" we shot up out of Richmond. The affect of the two tones was dramatic, I've never seen traffic scatter out of our way so quickly. We shot through the gates of Richmond Park and startled Park Keepers and spent the next few moments spending more time on the grass than on the road scattering deer, sheep and horse riders with their horses galloping furiously away from the noise. People just stood like statues with their mouths open staring at us as we went by like bats out of hell. We shot through Kingston Gate as one of the Park Keepers tried to flag us down, fortunately he didn't get too close but when he saw we were not going to stop for him he leapt back and fell over shaking his fist at us. We arrived at the house with the suspects (4 Burglars) still inside. They tried to escape by jumping out of upstairs windows, two managed to run off, but our adrenaline was up and I chased the two men for about a 1/4 mile before they stopped completely breathless when I arrested them both. We had surprised them in the fourth house they were burgling, and they were using a stolen car; which they had taken from outside a house in Clapham two hours before. When we asked them why were they still in the house because we had made enough noise coming, they said the heard us coming for about five minutes across Richmond Park and thought there must be a serious incident on somewhere for all the noise the Fire Engines were making. They didn't know Police Vehicles had two tones yet. Our driver apologised to them about the noise and promised he would try to get the volume turned down. Everyone was delighted except the crews of the Hammersmith, Putney Twickenham cars for as you can imagine there was a tremendous rivalry between the crews. The prisoners all went to Kingston Crown Court and each earned himself 7 years in prison, and a Detective from Kingston got a personal commendation for the arrest, when he was probably asleep in bed at the time. There just is no justice anywhere is there, but this is a typical con used by the C.I.D. to try and impress a Court that they are the heroes of the moment, but that was probably the most thrilling chase of my career. Shortly afterwards all Police cars were fitted with two-tone sirens and it was made law that banned the use of two tones by all except emergency vehicles. To my way of thinking, these were very sad days for the Police Service as a whole. We were recruiting a new type of Officer. Almost all of my peers had been ex-Servicemen of one type or another, and those who were not were brought into the Serviceman's way of thinking and conducting himself. This new generation of Police Officers did not seem to be so street wise and confidant. They seemed to want to spend more time in their vehicles and spent more time conversing with each other on their Radio's asking for help and advice, rather than using their own initiative and talking to the people they met on the street, or actually getting to meet people in the general way of things, that is to know and be known. There was a subtle but serious change coming over the force generally, I don't believe it was peculiar to the 'Met'; I believe it was a Nation Wide problem. Further there was a tendency to recruit University Graduates by promising them accelerated promotion through the ranks so that in time we would have a more academic Officer Structure. This was all very well, but it didn't give those men and women the broad experience of their forebears, they soon became aloof from their fellow Officers so that the camaraderie was disappearing, and discipline and trust was actually breaking down.
Notwithstanding all the set backs one experiences during life in the Police, life has to carry on and being temperamental doesn't help an awful lot. The Police Station at Barnes was situated in an ideal situation. It was also unique in that there were three Police Stations next door to each other, and all three were under three separate District Commanders. Sharing the same riverside frontage was Barnes River Police Station under the Command of Thames Division. Behind the two buildings there was the District Garage and Police Station for the 2 Area Traffic Division. This was where we got our vehicles serviced and where the traffic patrols were based. My love was to be attached to the Thames Division and I set my heart on transferring to the boats, however there were other much more pressing and serious considerations to be made first.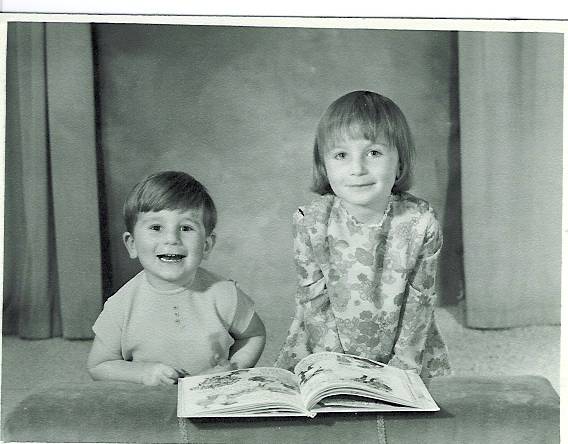 Louise and Simon were growing up, Louise was at Primary school and Simon was just a pickle. I was approaching 40 years of age and the cut off time for making any transfers within the Police Force. Elisabeth's Mother and Father had recently moved to live in Hereford. It seemed that perhaps now was the time to try to get a transfer to there. It had a whole list of possibilities, not least being that it was a much better environment for the children to grow up in. In our home in Twickenham they were growing apace and it would not be long before they would not unnaturally want to roam outside our garden gates along with other children of their own age. The thought was not too pleasing to me, because life in London and the suburbs held a lot of temptations for young children. The old adage of being out of sight meant being out of mind certainly did not ring true in our home, in fact the truth was the exact opposite for us. The thought of living in the country where the children would be safer and freer was a very attractive one. The alternative for me was perhaps a very selfish one, because I thought if I made a serious attempt to get a transfer to Hereford and failed, I could then make a try to get into the Thames Division. I therefore discussed the alternatives with Elisabeth and together we agreed I would apply to go to Hereford.
The application made I was warned by my own Senior Officers against the change, and that it was in my interest to stay. But I thought again about the 'ball and chain' of First Aid and decided that Hereford would not be interested in that and I could be a full time 'Bobby'. I was invited to an interview at the 'West Mercia Training School' at Droitwich. I learned the West Mercia covered Hereford, Worcester and Shropshire. I began to have qualms and had visions of being sent to the northernmost station in Shropshire or even to the fringes of Birmingham where I would be no better off. But I still had the option of turning down any offer if I didn't like it and staying in London to pursue the option of trying for Thames.
We travelled down to Hereford to stay with Elisabeth's Mum and Dad and on the day of the interview I had to study the map carefully to find my way to Droitwich, this was real Indian Territory to me. I had never been in this part of the country in my life, but it was a beautiful day with a cloudless sky and warm. The countryside was really beautiful and I thought I could really enjoy Policing here, but I had applied specifically to work in Hereford City. As I waited in the anteroom for my interview, one of the Officers, a Superintendent Mr Jones, who was the Commandant of the Training School, approached me and told me that my credentials were excellent except that I had specifically requested Hereford City. He also said that as my In Laws lived in Hereford City, it was against Force Policy to allow Officers to serve in the same area with their In Laws unless there was a reason of Dependency for it. I said that this was not so, so he told me that if I really wanted to transfer it was advisable to accept what might be on offer, and I might be able to move at a later date, but not in the immediate future. His attitude was in no way officious or overbearing, so I took it as an honest word of advice.
In the interview I was sat facing five Senior Officers the Chair being taken by the then Deputy Chief Constable, Mr Alex Rennie. Mr Rennie was a man with a very powerful personality and didn't strike me as a man who would be argued with if he had made up his mind. He was very forthright in his questioning and was the only Officer to ask any questions of me. His questions were very searching, and to my surprise began to enquire very deeply into my background particularly as I was a Roman Catholic (Did I still practice regularly?) I was born in Southern Ireland so what were my feelings with regard to the Northern Ireland Situation and the Sinn Feign party in particular? I told him I was totally apolitical and had not been to Ireland since I was three years old except for a short visit whilst serving in the Navy when on a NATO exercise in the North Atlantic. I certainly had no wish to have the slightest connection with any organisation that was political in any way or form. Surprisingly the subject of my having received the 'Special Order of the Day' after the fire on the trawler Northern Duke was raised, and a discussion as to whether I should wear an oak leaf on a black ribbon on my tunic. I think the consensus of opinion was that I should, but in fact I never wore it, I am still in doubt as to whether it would have been correct. He seemed interested in the fact that my prime reason for the transfer was for the better environment and opportunities for my family. Finally he told me that he was satisfied with my application and presentation and would offer me the only position available within the force, which was at Upton upon Severn. I recognised the underlying threat immediately and told him I would be delighted to accept that offer, so arrangements were put into affect straight away to arrange for the transfer. I was to live in a Police House in Upton and I could visit and make arrangements as soon as practicable. Outside the interview room I heaved a sigh of relief, but felt a little uncertain as to whether I had done the right thing, for instance - where in heavens name was Upton upon Severn? I had never heard of the place in my life. It was a great relief to me when I found my way back to Hereford and told Elisabeth. She was pleased and told me that it was not too far away from Hereford, and a very nice place to live. So it was goodbye to my dream of going into Thames Division.
The final detail to be attended to before leaving our Twickenham home was to say goodbye to the Singleton Family. Brian and Kay Singleton had become firm friends after Louise had started attending a Nursery School where she had met Julie. Her whole life seemed to revolve around her friendship with Julie, and we were to learn later that the exact reverse was happening in the Singleton household where Julie's entire life seemed to revolve around the doings of her friend Louise. It was inevitable therefore that the parents should meet. Both Elisabeth and Kay became involved in a babysitting group and a friendship developed between us all. This was cemented for me when on one occasion I had to collect Louise from playgroup or Primary School; I can't remember which, because both the little girls graduated to the same school and class from the playgroup. Kay wanted to know why Elisabeth wasn't at the school to collect Louise when I explained that Elisabeth had damaged her back and was temporarily confined to bed. I went home and a little while later when at home I was doing the ironing after getting in the days wash, when Kay called to see if she could help Elisabeth. Without any ado, she scooped up all the ironing and took it home to return it the next day beautifully ironed. I had never experienced that kind of honest friendship before, and we couldn't dare leave without our goodbyes.
Copyright © 2005, The Dempsey Family
Please send your comments to ccd@
classicbookshelf
com