Neal Dempsey, My Life Story
CHAPTER SEVEN
Haslar and Portsmouth
Arriving at Portsmouth Harbour Railway Station was a bit of an anti climax. We were met by a Naval Patrol (Police) and taken to the ferry that would take us across the harbour to the pontoon in Haslar creek adjacent to H.M.S Hornet. There a civilian driver met us and took us with our equipment the short way up to the Hospital.
H.M.S Hornet was the base for the fast Motor Torpedo boats that used to speed in and out of Portsmouth during the war to harass German shipping, act as Air Sea Rescue for downed aircraft and clandestine invasions on the coast of France. There were a number of boats in when we went by, and everything was buzzing with sailors going here, there and everywhere. On the right hand side was the Submarine base of H.M.S. Dolphin with its distinctive 100 Ft ascent tower. There were a number of Submarines tied up against the wall and again a hive of activity all around. I found it all very exciting to be there among it. A short while afterwards, H.M.S. Hornet was disbanded and became an overflow for H.M.S. Dolphin for ships companies in refit and became known as Dolphin 2. I was pleased to have seen it as it actually was.
In Haslar Hospital we were shown to the Staff Quarters, which was against the Sea wall overlooking the Solent. I had an end top bunk overlooking the sea. Away to my left were the lights of the Fun Fare at Southsea and straight in front was the Isle of Wight. Probably one of the most spectacular views I would ever enjoy, and enjoy it I most certainly did. I was appointed the next day to my duty, which was to work on the Sick Officers Block. I must say I was flattered to start with but soon became disillusioned when I found that my responsibilities would be general cleaning of the toilets floors and small four bed wards. In other words just a ward skivvy. Any hands' on nursing was done by the female staff. I was not happy with this arrangement but after one month I was taken off that ward and moved instead to ward B5, which was a male, dirty surgical ward, which also dealt with the Theatre recovery cases. Here I most certainly got involved with every aspect of nursing, including making up dressing trolleys, changing dressings and treatments, plus all the paper work and thoroughly enjoyed it. It was at this time that the Wren Officers Steward from Plymouth had apparently applied to be transferred to H.M.S Vernon another 'Stone Frigate' Naval Barracks in Portsmouth. Pad was still at H.M.S. Vernon at the time and was still on the barrack guard. By coincidence he was on duty on the main gate when she walked into the guardhouse and asked to use the telephone. She asked for the number of the Staff Quarters at Haslar, which aroused his curiosity, and when she got through and asked for me, he was all ears. Pad was not nearly as surprised as me, obviously I did not know my beloved brother was listening to the other half of the conversation, until later after I had arranged to meet her that evening at Southsea. I had hardly put the phone down when it rang for me again but this time it was Pad taking the Mickey'. It was hilarious I suppose, but I was a bit flustered. The girl did not mean much to me except I thought she was a nice person and she could dance well. We met a few times but she didn't get her transfer and so went back to Devonport. I never saw or heard from her again.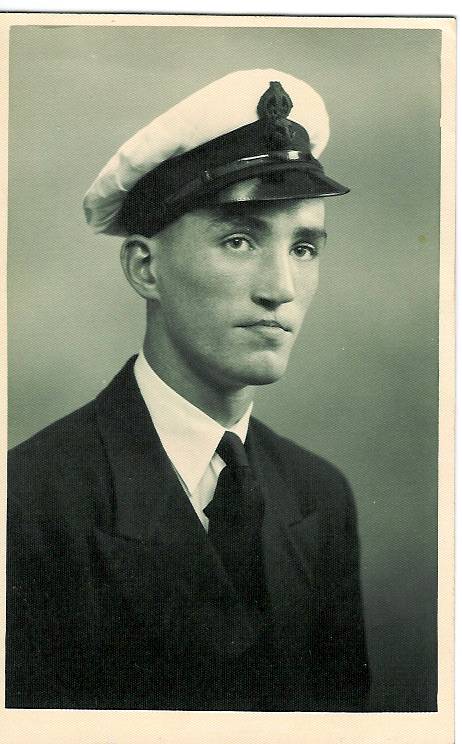 I began to enjoy my life at Haslar; Pad was drafted away from H.M.S VERNON to H.M.S. THESEUS a light Aircraft Carrier. King George V1 had died the year previously and Princess Elizabeth was now Queen Elizabeth, which was all very interesting stuff, but didn't affect me in any way except that on 15th June that year they held the Fleet Review on the Solent off Spithead. I always believe they lined up the worlds fleet for my 19th birthday, but as H.R.H. didn't take me around the fleet with her I thought she was a mite selfish. It was great fun ashore with the sailors from the world over, from South America to Norway, from America to Malaya. I think the only Navy not represented was Japan. Memories were still too fresh. The whole spectacle was so magnificent I used to sit on my bunk for hours staring at the scene in a dream.
One of the amusing side issues about the fleet review was the horde of women and prostitutes who descended on Portsmouth from all over the United Kingdom. They had hired Coaches and filled trains to capacity. There were also the obvious sightseers by the million. The whole place was alive with excitement and spectacle. The police had tried to stop the horde of girls flocking into the place, but they were really fighting a lost cause. The American and Spanish Sailors seemed to get the best of the bunch. The Americans had the most money. The Spanish had the smartest uniforms with their little dirks hanging from their belts. For myself I just went and mingled to soak up the atmosphere. I found that all the prices had gone up and to get into the dance hall at Southsea cost a fortune, the pubs had raised the price of the beer; so I saved my money and watched everyone else spend theirs.
On the day of the Fleet Review itself I had been working on the ward in the morning, but after lunch I had the afternoon to myself and I was able to sit on my bunk and watch the Queen steam out into the Solent, she was in a special observation cabin built onto the top of a Destroyer so that she could see and be seen, but remain sheltered from the wind and rain. In fact it was a beautiful sunny day. The ships started to leave a day or so later and gradually Portsmouth returned to its normal state. Runs ashore became the usual trek over Pneumonia Bridge (Then just a footbridge over Haslar Creek) to the Gosport Ferry. Then the hike to Southsea and the Dance Hall, and the late night hike back again.
I thoroughly enjoyed the evenings at the Dance Hall because I was very popular as a partner. I became friendly with a group of Nurses at Portsmouth Hospital who frequented there. They always met me inside; one of them always put a 10/- note (50p) in my top pocket to pay for the drinks in the bar. I always gave them a packet of cigarettes. They seemed to think it fair exchange as they got the drink paid for out of the 10/-, and still had the cigarettes.
In the January of 1954 I was drafted to Royal Naval Barracks Portsmouth (R.N.B). I went to work in the Dental Department. This was a completely new venture, as we had not done any Dentistry at Stonehouse. There we worked with a specific Dentist the whole time. There were four Dental Surgeons, a Captain, a Commander and two Lieutenants. I worked with one of the Lieutenants. He taut me an awful lot, which was to become very useful in the years ahead had I only known it. From my point of view the posting could not have been better, because the Barracks is in the centre of Portsmouth and gave me much easier access for runs ashore as I didn't have to pay to cross over on the Ferry and the return at night was so much easier. There were a couple of Wren S.B.A's in the department. I got on reasonably well with them, but never saw them ashore. One of them Mary Lucas I got on particularly well with. She was a very attractive girl and obviously from a public school. Apparently she was not very popular with her peers or in the Wrens Barracks (Duchess of Kent) she was considered too stuck up. She left not long afterwards and I never knew why until I got a Christmas card from her when she had become a Wren Officer and was at Greenwich Royal Naval College. Which explained to some extent why she was not too popular with her opposite numbers. I think that she related to me because she too was a loner and recognised it in me.
In April that year I was told I was going to join H.M.S Belfast (A permanent museum in the pool of London now.) I became very excited about that and enjoyed working with the new Dental Officer helping to fit out the Dental Surgery on board before the ship was commissioned. The day before the commissioning however my draft was cancelled so I didn't go. No reason was given and I was very fed up about it. However within weeks I had been re-drafted to H.M.S Terror, the naval Barracks in Singapore.
At about this same time there was a National Scandal concerning quite a few members of the so-called aristocracy who had been consorting with Servicemen from right across the armed forces in a Homosexual relationship. The scandal involved members from the R.A.F. Army and Navy. Men were being recalled from all over the globe and being discharged immediately as 'S.N.L.R' (services No Longer Required.) I was going to what was apparently a hotbed of intrigue. I didn't really know what a homosexual was and what I had heard told on the mess decks all sounded pretty disgusting to me, I couldn't understand anybody wanting to indulge in that kind of behaviour and to think there were so many men supposedly involved.
I got quite excited drawing out my tropical kit and getting ready to travel. I had my few final flings ashore; I didn't think I would be able to go dancing in Singapore. I was sent on leave for two weeks and came back all prepared to go. I didn't have a passport so had to get one through the Regulating Office, this involved a lot of banter as I had to fill out papers to register myself as a British Citizen and get Naturalisation Papers. I was then sent to a central depot to get civilian clothes as I was told I was going to fly out, and as we were overflying some countries that would not allow us in, we had to wear civvies. For a while I was going around in a daze until the great day came for my departure.
Copyright © 2005, The Dempsey Family
Please send your comments to ccd@
classicbookshelf
com