Neal Dempsey, My Life Story
CHAPTER TWELVE
CIVVY STREET
It was with very mixed feelings that I went back to 13 J Block in Peabody Avenue. The date was 15th May and I had one months demob leave. I had been to the stores and collected my demob suit, a sports coat, flannels, a couple of shirts and a tie. In theory I had six months grace, that is to say if I couldn't take Civvy Street, I could return to the Navy in my old rank. I didn't want to do that, I really wanted to realise my secret ambition to be a Policeman. I was as apprehensive now, as I was when I went to join the Navy. I went to the Police Station in Rochester Row for an application form, and got a very cold reception from the Station Officer there, but I had seen plenty of difficult characters in the Navy, so he didn't worry me overmuch. I filled in the form honestly and rather bluntly, but included the fact that I had received the Admirals Commendation while I was on Palliser. Mum still insisted that I wouldn't get in and I suppose deep down I believed her. I went searching for other jobs in the meanwhile. I tried the London Ambulance Service. (L.C.C. as it was then). I got a very cold reception there and was informed that as I couldn't drive I couldn't get in there. I mentioned my medical background but I was told that I only needed a St John First Aid Certificate and a driving licence, I was over qualified. I was not terribly impressed, and I confess a little disheartened. The labour Exchange was no more helpful (Job Centre's hadn't been invented then). They paid me a nominal dole but couldn't find me a suitable employment although they said they were impressed with my naval record.
On the home front, things were changing. Peabody Estate was upgrading their flats and we had to move to a more modern flat. The new flat was 13 Q Block. We had been bombed out of 13 Q Block so in a way the wheel had turned full circle except because the flats had been modernised no 13 was on the floor above the original. I acquired the small single block room and bought myself a couple of items of furniture just to make it mine. Pad, Michael and myself doing the work made the move. Pad was a Fireman in the East End of London. I had no intention of following him into that job; I'd seen all the fire I wanted to see. I was still very much under weight and was not as fit as I should have been for some reason, but it wasn't long after we had moved into the new home that a Police Inspector came knocking on the door to see me. He had my application for the Force and wanted to check on me. Mum was flabbergasted and took a little while before she believed that I had actually applied to join. I think she thought I had been up to no good and was in trouble. The Inspector was obviously satisfied; his main concern apparently was that as I had been in the Navy, I wasn't covered in tattoos. Within a fortnight I had a directive to attend at the recruiting depot in Borough High Street one Monday at 8.a.m. once there I had a strict Medical and Eye Sight Test. There were at least a hundred men turned up that day about sixty were still there in the afternoon for a Civil Service examination Paper. Maths, English and General Knowledge papers which took about two hours. By the end of the afternoon there were only forty left. Then we had interviews, which thinned out a few more, and I was still standing there even though in a daze. I was told to go home and wait, and I would receive a date to go to the training school. I all but danced out of the recruiting office, bursting to tell my mother she was wrong, I was in.
The notice to attend at Peel House training school came very quickly and I reported on Monday 15th August 1961 exactly two months to the day after my final discharge from the Navy.
There were fifty men collected together, half of them were to go off to Hendon, the rest were to remain at Peel House for their training. I was to remain at Peel House, which suited me because it was only ten minutes or so from home, and in the middle of civilisation, unlike Hendon which was out in the sticks. We were told that those who were going to Hendon were the fliers and we were the dead legs, but I had just had 9 years of this kind of nonsense so I was not overly impressed. The truth was I think that the men who went to Hendon were straight out of Civvy Street and needed a bit of discipline knocked into them, all the men who remained at Peel House were ex- servicemen.
Peel house was great fun; the men in my class were from every regiment from Infantry to Guards, to R.A.F. and myself in the Navy. As we all marched at different paces and styles we all agreed that we would each march in the drill practices as we would in our respective units. I therefore suddenly developed a terrible roll. The guardsman next to me insisted on stamping his feet whereas I put my feet down in a seaman like manner. The Drill Sergeant was soon tearing his hair out, but he wasn't abusive and didn't swear at us like a Gunnery Chief Petty Officer. We normally did our drill first thing in the morning, so I was taken out of the squad and told I was to train with the Water Polo team, because being an ex sailor I could swim? A joke, believe me, I can swim but more like a wounded whale than a porpoise. I went with the swimming party every morning therefore with 99% enthusiasm and 1% skill. I had never even seen a game of Water Polo never mind having played, apart from a few near drownings' I enjoyed the experience. We returned to Peel House while the morning parade was still happening and went in for a special cooked breakfast. This was really living at last.
The accommodation in Peel House was very basic. The washbasins and bathrooms were communal; the rooms were really just ply board divisions in a large dormitory. My own space comprised of a bed with a locker at the feet for personal effects, a rail protruding from one of the dividing panels with a curtain around it as a wardrobe. The side panels around my bed space were 12"s from the floor and only just above head height There were larger rooms, which were intended for private study, plus what I presume passed for a recreation room which had a table tennis table in it and that was really it. When I later visited Hendon, they had super rooms with fitted wardrobes and wash hand basins in every room, and very modern facilities, including a modern gymnasium and an Olympic size swimming pool. It was obvious that Peel House would be closed down in the not too distant future, but I wasn't worried because I could walk home and get my laundry sorted. There were a few Girls going through the school but they went off in the evenings to a Women's Section House near by. I wasn't very interested in them and kept well away as there were a number of the men around them all the time.
Recruits were at Peel House for 13 weeks with progress exams every month. The smallest infringement was instant dismissal. One man was discharged for having a pencil rubber in his possession. All our pocket book reports were done in pencil, and as technically the reports would be legal documents on the streets, erasures were not permitted. One had to cross out the mistake and initial it so that it could be seen, and the alteration made beside it. We were taut a standard approach to members of the public, which was intended to be faultless and not cause any resentment in any way. We had to learn two types of reports, the first, an 'A' report had to be word perfect, with T's crossed and I's dotted. The second a 'B' report was intended to be understood and almost repeated word perfect. We had two manuals. The first was a loose-leaf hard backed Instruction Book, which we had to amend as legislation, changed and instructions altered for whatever reason. The second was a huge tome known as the Force Regulations. In size it was equal to the Bible and again it had to be amended. It contained all the information in the Instruction Book, the Discipline Code and all Legislation relevant to the Police Force, from Sheep Dipping to arresting a drunk. Every month we would be handed a thick file of amendments, which ranged from inserting a coma or full stop to inserting a whole page or deleting a paragraph. This was a tedious chore, which no one really enjoyed, but which had to be done. A new experience for me was the Self Defence and various ways and means of taking a reluctant prisoner into custody, something I was going to get a lot of practice in, in the near future had I but realised it. We weren't issued with handcuffs in those days, so once you arrested a person you had to keep hold of them until either you got them to the Police Station, or help arrived, never a simple task. My biggest problem was the learning and remembering all the Acts and duties of a Constable, powers of arrest and so on. We had to attend a First Aid Class run by one of the Sergeants. I confess I didn't pay attention to this and he got quite annoyed and threatened me that if I didn't pass I would be out. I still concentrated on the more professional side of the job. When the exam came, the Sergeant had obviously asked the Doctor to give me a really tough time, but after he asked me a few questions he said my replies were not in the First Aid Manual, but continued to ask me more in depth questions then asked me what I did before I came into the Police. When I told him he asked if the Sergeant knew and I told him I hadn't mentioned it to anyone, as I didn't think it relevant. To the Sergeants surprise and annoyance he asked me to go round with him and comment on the rest of the class in their practical tests. Anyone I thought was not up to scratch he asked me to show them how it should done, which I did. By now the Sergeant was almost ballistic. Everyone passed and when the Sergeant asked me why I hadn't told him what I did, I told him he had access to my records and he didn't ask. We were also taut how to stop a runaway horse and how to put tram poles back on their wires. Apart from the Dray Horses from Wandsworth Young's Brewery, I don't think there were many horses on the streets of London at that time. There were trams though, but they were phased out soon after.
Every Month a dance was held in the gymnasium, which was attended by a lot of the local girls and nurses from surrounding hospitals including the Children's Hospital in Vauxhall. I met and teamed up with one of the nurses from there called Doreen, she had a friend called Daphne. They turned up at the three dances arranged during my stay and I continued to see Doreen after I left Peel House for a while.
My thirteen weeks at Peel House flew by and came the time when we were to pass out from there and go onto Division. We were told that the best Stations to go to were in the centre area around Westminster and up as far as the city. Outside these areas things started to get a little tough. Everyone got their postings in A, B and E Divisions, which were the favoured ones, then I was told mine, which was at Limehouse in H Division in the East End of London. The Inspector looked almost apologetic, but in truth I was not unhappy. It was a tough area, but they obviously thought I could handle it. I really wanted to be a little way away from home, and Limehouse wasn't the other side of the globe, I could cycle home from there quite easily. We were advised that the three 'P's' were the ruination of Policemen - Public Houses - Property and Prostitutes. This gem of advice stuck to me throughout my service. I always passed it on when anyone was prepared to listen, and I must confess it was the best truism I ever heard within the Force. Whenever we went on duty we wore a blue and white striped armband around our left wrist and took it off when we came off duty. The idea being that we should travel to and from duty in uniform on public transport so that even though we were not on duty there was an extra presence of Police on the streets. This last expedience didn't affect me however because I was billeted in a Section House (Barracks) Harold Scott House - which was immediately behind and part of Limehouse Police Station. Here I had a very well appointed room, with fitted cupboards and a wash hand basin. There were locker rooms for tea makings and personal cooking articles, an ironing room, laundry and sophisticated rest room with full snooker table, a library and gymnasium cum dance hall. A canteen manned during the day, but facilities available to cook for oneself if one wished. A real luxury establishment and all free.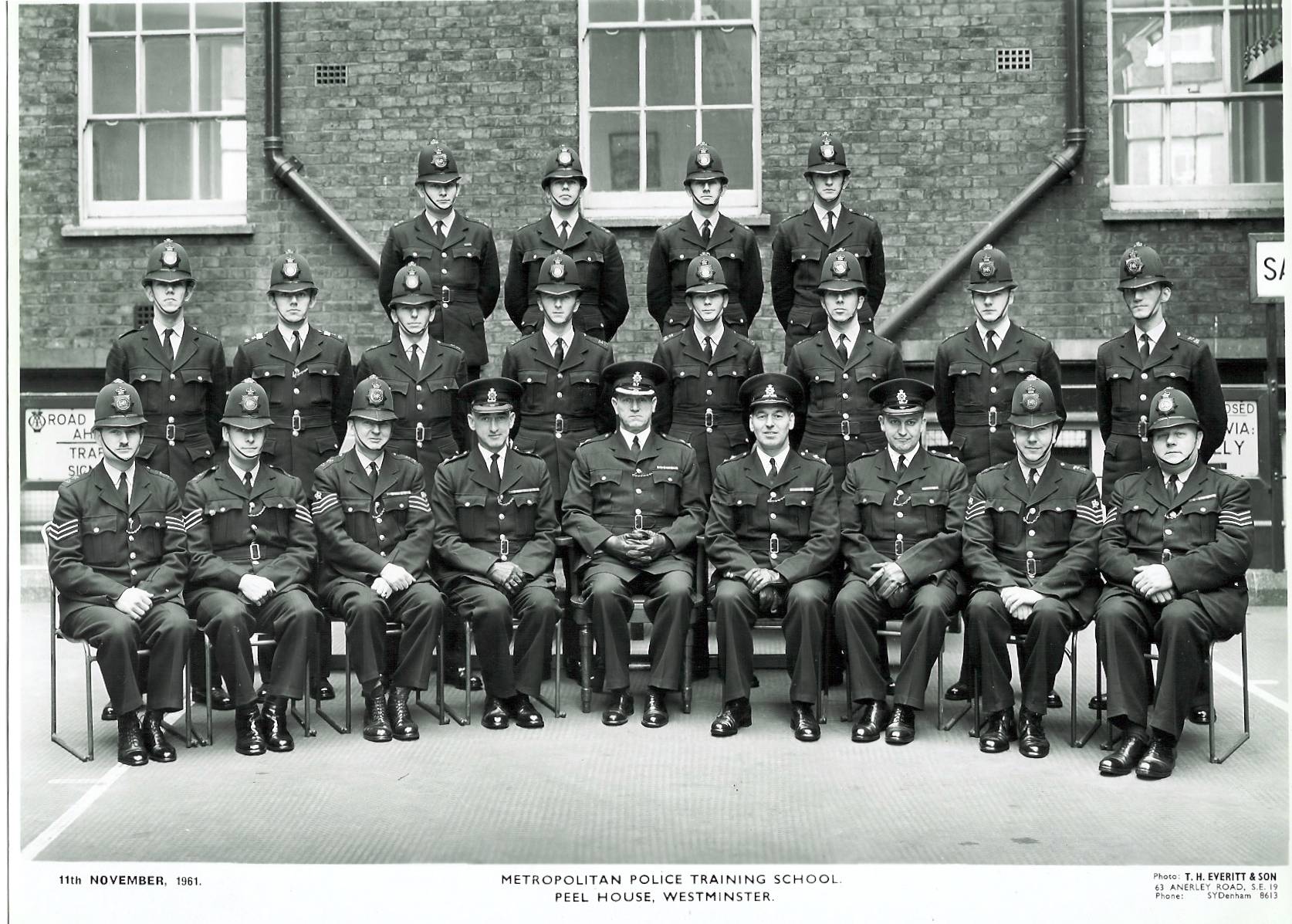 .
As one can see from the above picture, I am in the second row on the right end behind the fat First Aid Sergeant. Only twelve of the original twenty in the class survived and of these only the man standing beside me and myself made it to a thirty-year pension. Sad to say some never finished their probation and a couple went very wrong and ended up in prison.
Copyright © 2005, The Dempsey Family
Please send your comments to ccd@
classicbookshelf
com